Safety Shower Grab Bars in Los Angeles, CA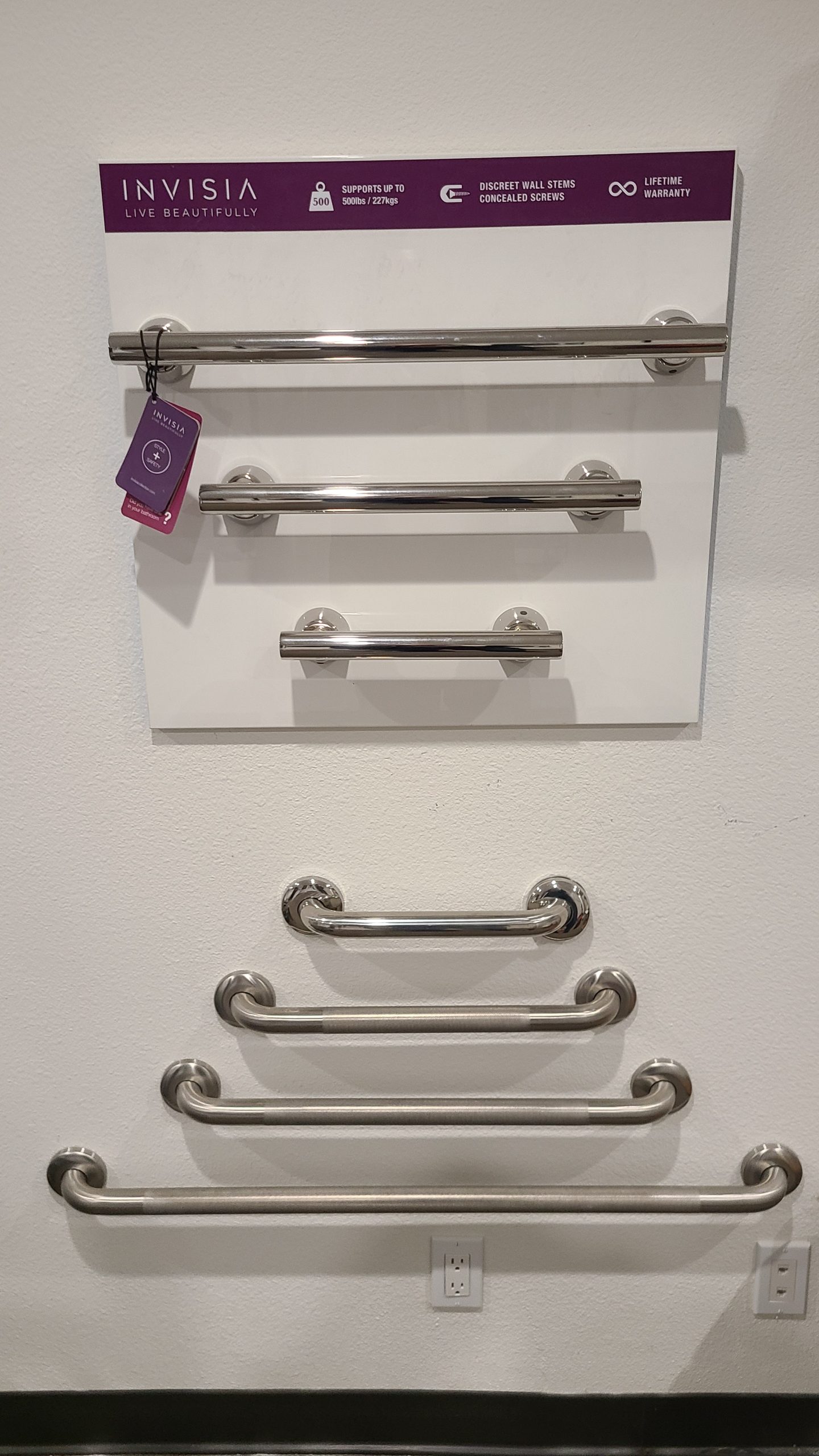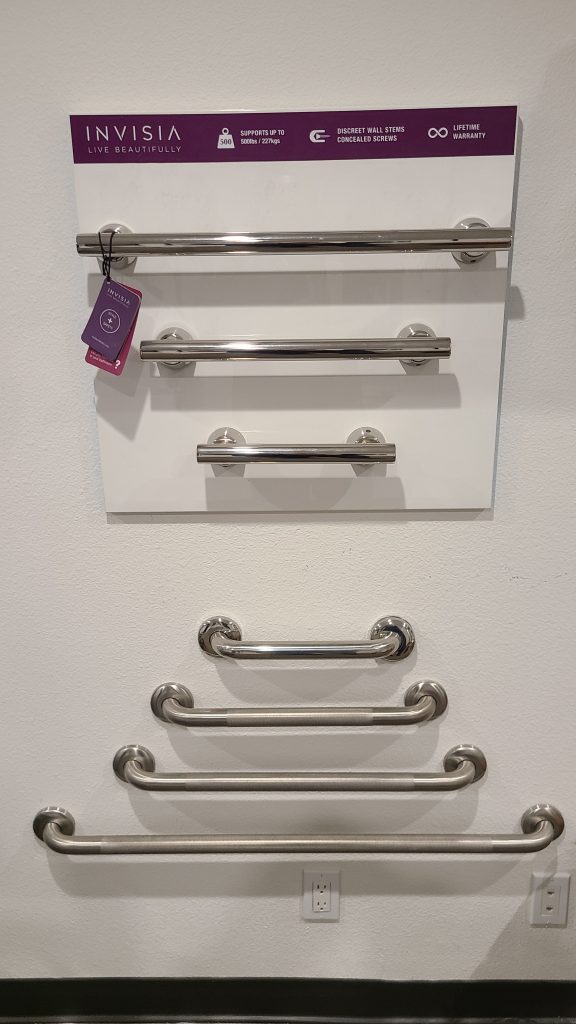 Our Easy Mount Grab Bars provide secure support to assist you in any room in your house. While other bars have standard three hole flanges, the Easy Mount Grab Bar has 9-holes, which means greater versatility during installation. The extra holes provide mounting options for angled grab bar installations, and for areas where stud spacing may vary from 16" centers. It is easy to add an additional mounting screw for peace of mind. Flange covers conceal the screws for a simple and modern finish.
L-Shaped Grab Bars
Our L-Shaped Grab Bar provides secure support to assist you in the bathroom. The middle flange is located on the 90 degree bend of the rail, so it is ambidextrous for either left or right side. It features a keyslot pattern on the flange. The outside flanges feature Easy Mount 9-hole flange, which means greater versatility during installation. It is easy to add an additional mounting screw for peace of mind. Flange covers conceal the screws for a simple and modern finish.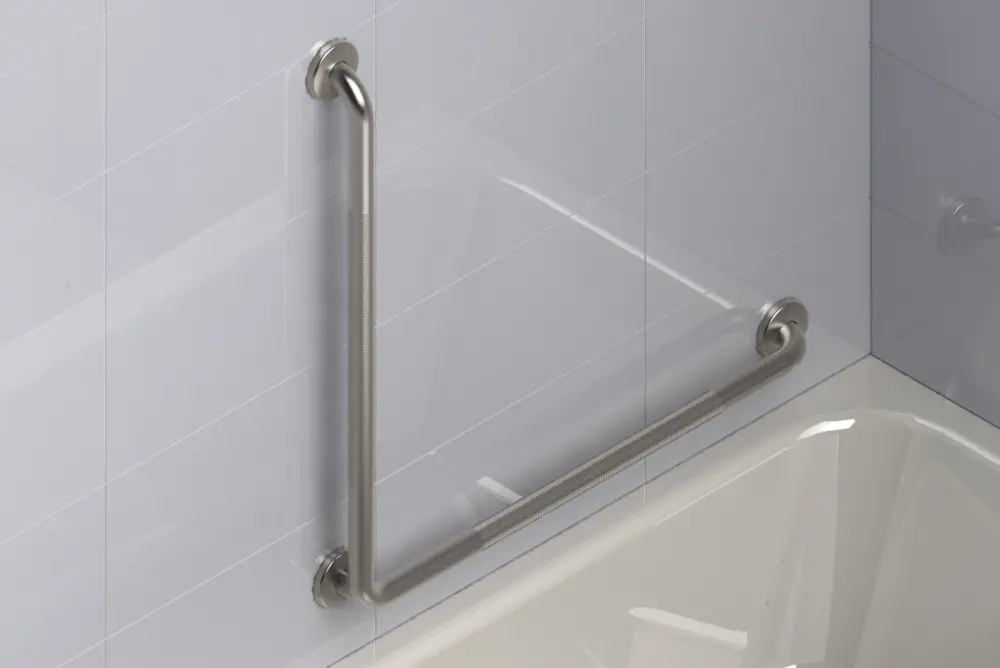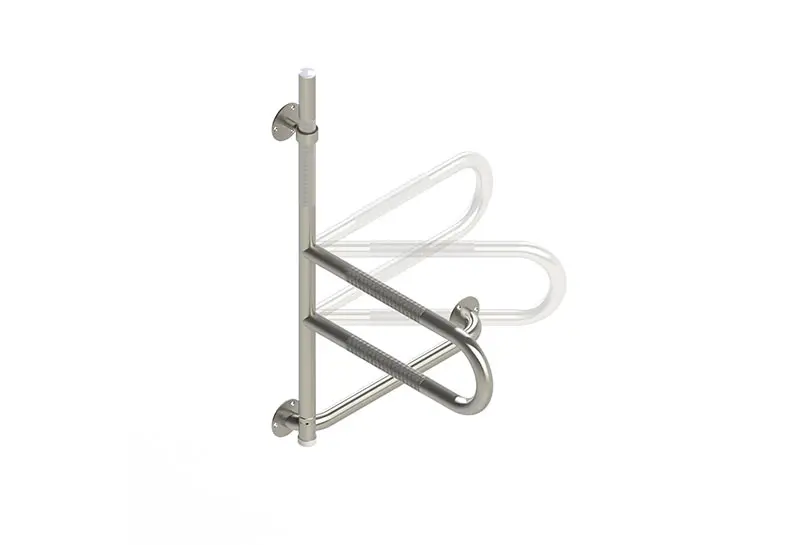 Dependa-Bar
The Dependa-Bar offers an unparalleled range of bathtub and shower support. Along with providing traditional grab bar support, the Dependa-Bar features our pivot and lock technology allowing for 5 different positions (one every 45 degrees). This means the Dependa-Bar is where you need it when bathing or showering, and can be locked out of the way against the wall when not being used.
PT-Rail
We carry the PT Rail Angled for additional support when going up and down two or three stairs. Like the PT Rail, it mounts to the wall and can be lifted out of the way when not in use. However, it can be adjusted between 0 and 35 degrees to suit the angle of the stairs it's mounted beside.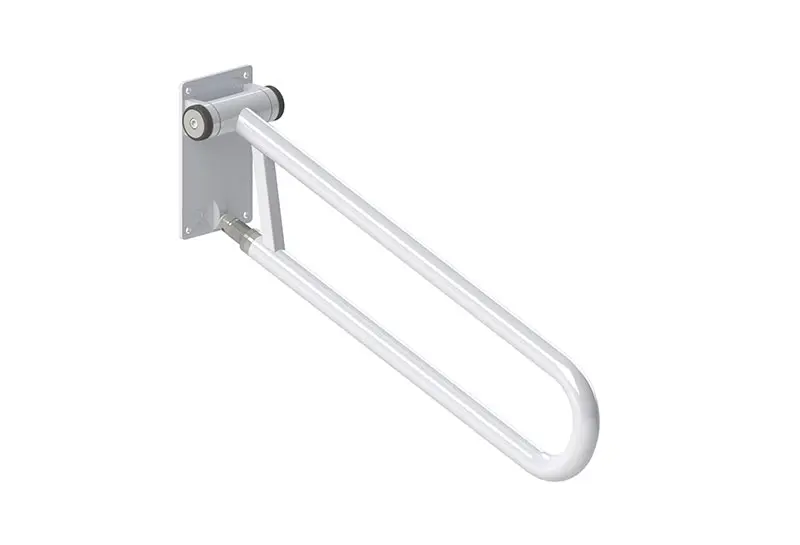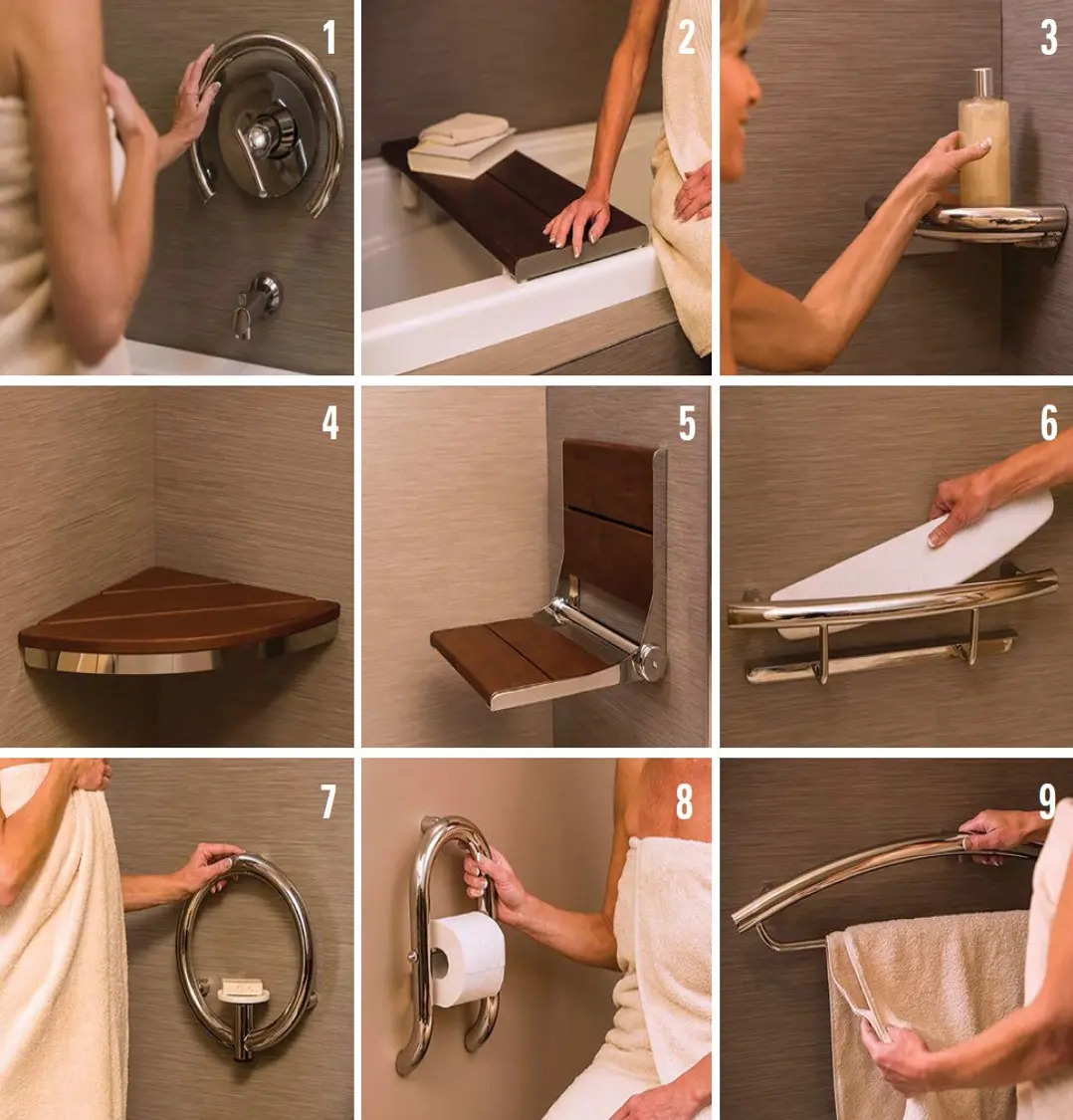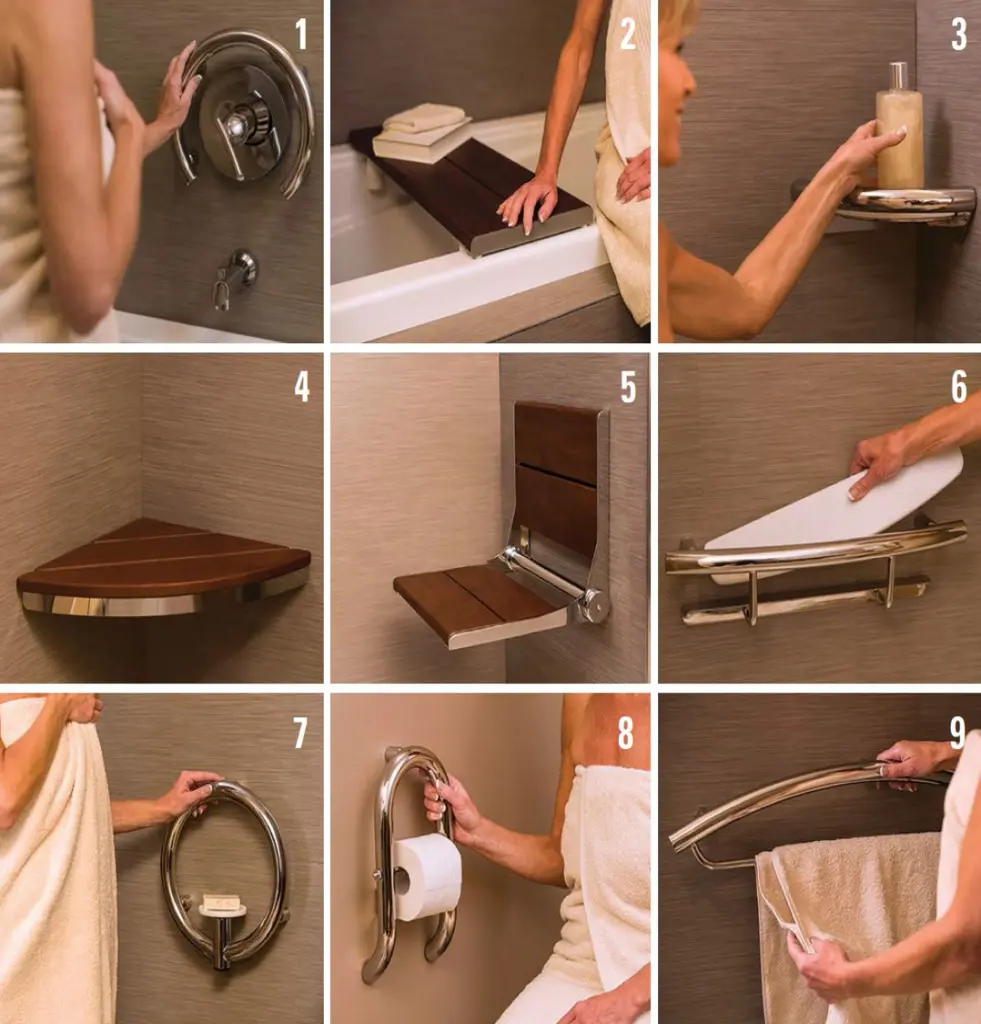 Luxury Bathroom Grab Bars and Accessories
All our bathroom accessories are designed to transform your space into a beautiful sanctuary where you can relax. With our unique collection of products, we provide your bathroom with more than elegance; all our products are created with safety in mind, so you can experience security, peace, and luxury through your decorative accessories.
Bathroom Grab Bars For Elderly in Los Angeles 
As we age, maintaining our independence becomes increasingly important. However, certain tasks can become more difficult and even dangerous without proper safety measures in place.   Did you know, that according to the CDC, in the United States, about one in four adults (28%) age 65 and older, report falling each year. This results in about 36 million falls each year.  It's no surprise that the bathroom is one of the most dangerous rooms in a home.  Fortunately, Call Before You Fall offers easy solutions: bathroom grab bars for elderly homeowners. These simple additions to your bathroom can make a world of difference by providing stability and support when moving around or getting up from seated positions.
But why are these grab bars so necessary? As referenced above, according to the CDC, falls are one of the leading causes of injury among older adults – with bathrooms being a common location for these incidents to occur. By installing Call Before You Fall's sturdy and reliable grab bars near toilets and bathtubs or showers, you significantly reduce fall risk.
With Call Before You Fall's selection of best bathroom grab bars for seniors available now in Los Angeles, California, it has never been simpler – or safer- to maintain your preferred level of independence as you grow older.
How Bathroom Grab Bars Help the Elderly
Bathroom grab bars are incredibly useful for anyone looking to maintain their independence as they age, particularly those with limited mobility. They provide sturdy support when getting in and out of tubs and showers or accessing toilets, reducing the risk of falls.
As we get older, our bones become more brittle, and our sense of balance deteriorates. This makes it easier to lose footing on wet surfaces commonly found in bathrooms – something that can lead to serious injury.
But with Call Before You Fall's range of bathroom grab bars at your disposal, you can rest assured knowing that you're safer and more secure whenever using these facilities– while still enjoying all the comforts your home has to offer. 
Benefits of Getting Bathroom Grab Bars For Elderly From Before You Fall
When it comes to ensuring safety in the bathroom, nothing beats installing reliable grab bars. Not only do they provide immediate support and stability, but they also come with several other benefits that can help seniors maintain their independence. Check out why you should consider getting bathroom grab bars from Call Before You Fall:
Easy installation: Our range of high-quality grab bars require minimal tools or drilling – making them an ideal option for anyone who values simplicity.  They are also attractive and use a cover for the most appealing aesthetic.
Range of styles and finishes: Whether stainless steel with a knurled grip or white options – our broad choice makes sure there is something suitable for everyone's design preferences.  Our techs carry a wide range of grab bars on their trucks so deciding what works best for you is easy.
Increased convenience: With sturdy handholds within arm's reach almost anywhere in your washroom space, you become much less dependent on others' assistance when entering/leaving/being around the bathtub/shower area.
Higher safety standards than DIY options: All products we list bear legal work certificates displayed on each item. That permits easy verification by any customer looking at its authenticity and reliability, unlike self-assembled alternatives, which pose unknown risks relating to product quality assurance.
So if you are in LA and thinking, "Where can I find bathroom grab bar installers near me?"  – Call Before You Fall is just a phone call away! Reach out to us for the best products and services, so you never regret it!
Shop Bath Transfer Chairs | Shop Bath Lift | Shop Non Slip Coating | Shop Shower Chairs | Bathroom Remodel Ideas