Residential Modular Ramps in Los Angeles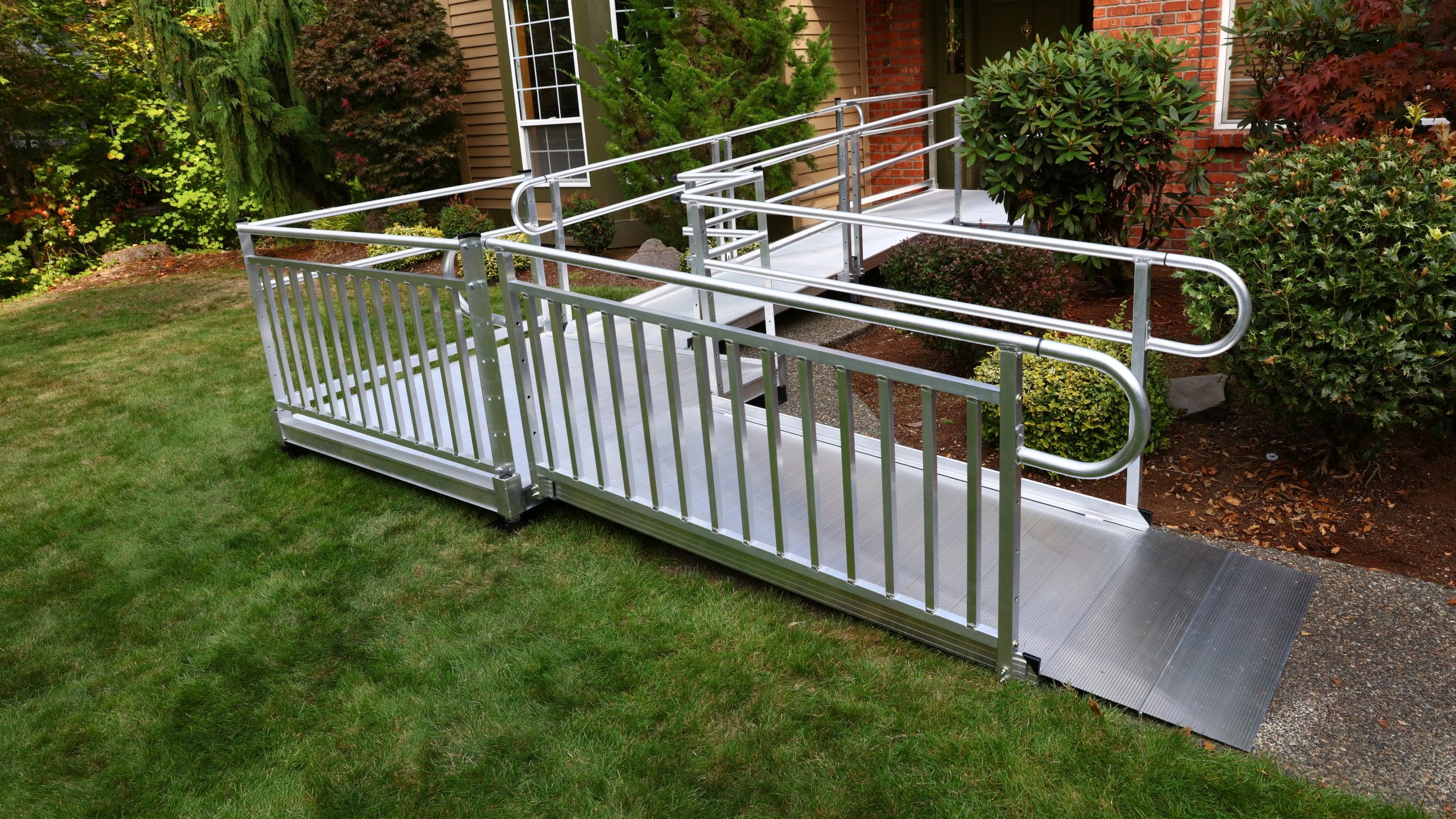 Modular wheelchair ramps are customizable and and semi-permanent solutions to ensure a safer entrance to your home.
What Kind of Ramp Do I Need?
With so many types and choices of ramps available, finding the right one can be difficult.  Let one of our Mobility and Safety Consultants help determine the specific application for your home.  After talking to you about your need, we will recommend the most appropriate ramp setup.
All of our ramps are durable and affordable, and can be customized to match your home's style with a variety of options:
Material: We offer durable, rust-free aluminum ramps.
Texture: Our aluminum ramps come in solid or mesh options.
Color: Aluminum ramps can be powder-coated in the color of your choice.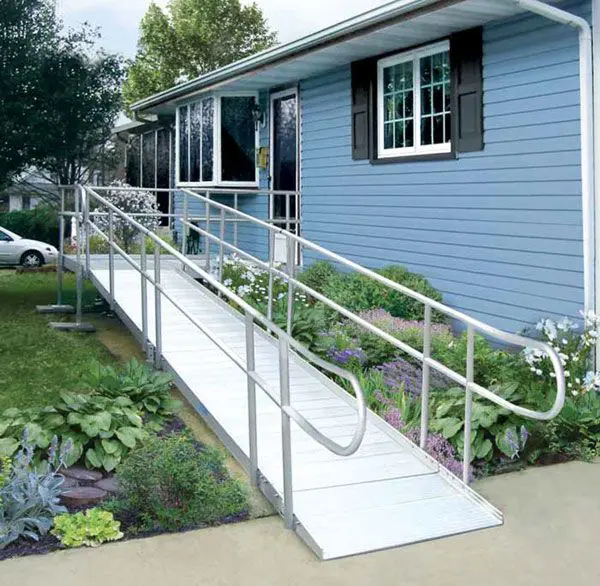 Specifics
ADA regulations – which do not apply to residential applications, but are a good guideline – specify that for every 1″ of rise, 12″ of ramp is needed to create a gentle incline.  An incline which is too steep, or a setup which isnt ideal, can defeat the whole purpose of having a ramp system.  Let one of our Mobility and Safety Consultants help you with your specific needs.
We have one of the largest inventories of ramps in California.  Chances are, we have it in stock.  Same day delivery and setup available.
Modular Ramps for Sale in Los Angeles
Are you seeking a safer solution to make your home or business more accessible? Look no further than Call Before You Fall's modular ramps for sale. Our top-quality ramp systems are designed to offer ease of access for anyone with mobility issues. Our modular ramps offer secure and stable entry points that can be configured to fit any space. Whether it's a residential or commercial location, we have the perfect solution at an affordable price point.
Our team is committed to providing superior customer service and ensuring each client receives a modular ramp that meets their specific requirements and budget. We prioritize providing high-quality materials that withstand severe weather conditions and intensive application while meeting the highest safety requirements. Our ramps are easy to maintain and do not require painting or rust removal. In fact, aluminum is a great choice, as it also does not get as hot to the touch as regular steel ramps. This is important as the handrails are going to be used regularly.
So why wait? Check out our range of modular ramps for sale today; your ultimate independence is just a step away!
Why Do I Need Modular Ramps?
If you, your customers, or someone in your family has mobility challenges, then a modular ramp is an essential addition to your home or business. The truth is that not all buildings are designed with safe and accessible outdoor areas, especially when steep steps or multiple levels are involved. 
Without adequate ramps in place, those facing these mobility obstacles run the risk of accidents and serious injuries every day. Our modular wheelchair ramps have been expertly crafted with safety as our main priority – ensuring that users can navigate their way more safely with less risk.
Not only do we help with the design of our premium-quality aluminum alloy materials, but our team adheres to rigorous ADA standards, ensuring maximum ease-of-use. Don't let limited mobility restrict your lifestyle; invest in a Call Before You Fall modular ramp today!
Benefits of Getting Modular Ramps for Sale from Call Before You Fall
Getting a modular ramp from Call Before You Fall offers several benefits that make it an investment worth making. Here are some of them:
Enhanced Accessibility:

Our modular ramps provide easier and safer access to your home or commercial space, improving convenience for those with mobility challenges.

Durability:

Our rust-resistant aluminum frames ensure longevity and durability in outdoor environments while also being highly resistant to wear and tear. The material is also less susceptible to getting as hot to the touch as steel.

Convenience And Versatility:

Our platform-style design is adjustable from the ground level up, creating infinitely customizable sizes and configurations based on your individual requirements. Also, If you need mobility outside the designated area, we can unassemble these ramps within hours, providing you with complete reassurance of safety considerations.

Risk-Free Installation Process:

Our team provides professional installation services to ensure proper installation and setup. We never outsource; we use only our own factory trained installers.

Cost-effective:

We offer affordable price range options, including delivery and installation. So there are no hidden costs or surprises. 
Choosing Call Before You Fall means choosing accessibility, convenience, and greater safety for you or your loved ones. Don't compromise on quality when it comes to modular ramps for sale- reach out to us now!
Shop Commercial Ramps | Shop Threshold | Shop Portable Ramps | Shop Ramps
Interested in a Modular Ramp System? Request a Free Home Assessment Today!