Bath Lift Bath Chair in Los Angeles
Getting in and out of baths is often a challenge that can present many dangers.  Our Bath Lift helps you take a bath while reducing the risk of a fall.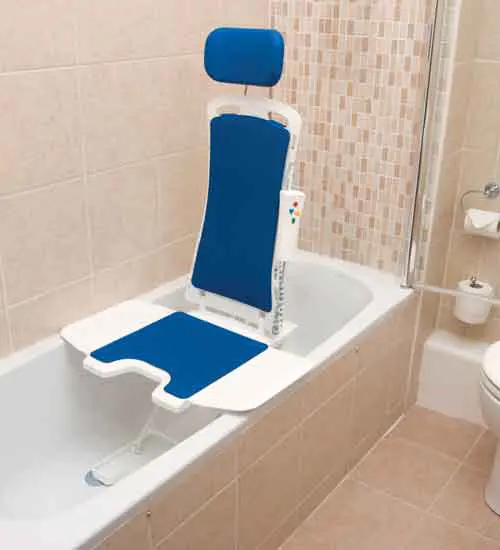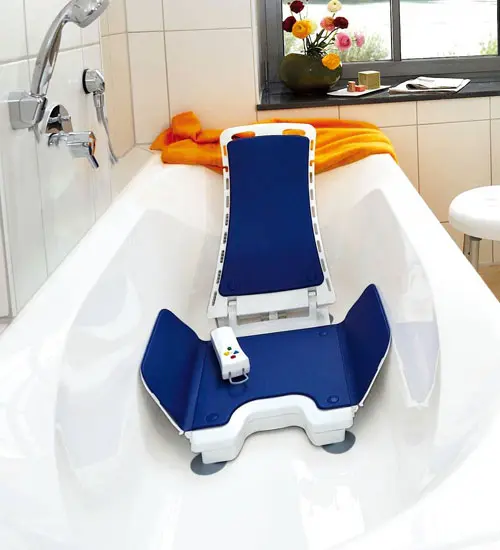 The lightest bathlift on the market at only 20.5 lbs
The Bellavita lowers to 2.3″ (Figure A)
Seat height reaches 18.8″ for deeper tubs
The backrest reclines to 50º at its lowest position
Completely tool-free set up makes it easy-to-install and operate When not in use, back easily folds down for space-saving storage (Figure B)
Watertight hand control floats
The easy-to-use quick charge lithium-ion battery is accommodated in the hand control
Two-piece construction makes the lift easy to assemble/disassemble for transport
Padded seat and backrest provide added comfort
Washable hygienic covers are sold separately
Hygienic cutaway and slimline profile for easy handling
4 quick-release suction cups for anti-slip bath base
Headrest available as an option
Simplify transfers, positioning and rotating when using your bath lift with a Vitaturn Swivel and Transfer Aid
Suction cups adhere to smooth surfaces only, and not textured surfaces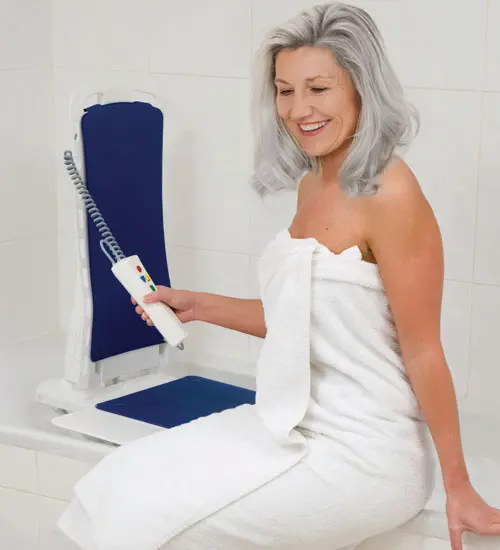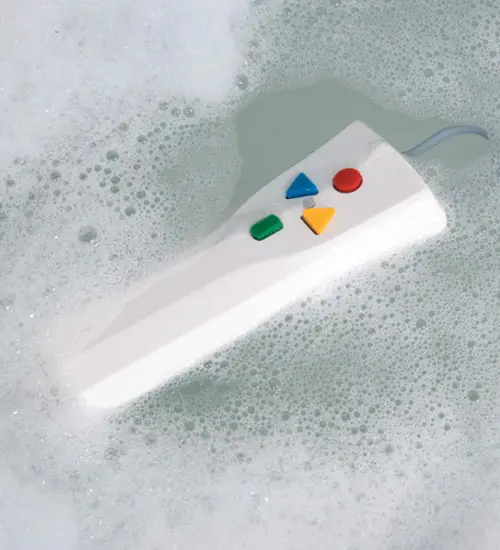 Bath Tub Lift Chairs for Sale in Los Angeles 
Have you ever been worried about falling or slipping in the bathroom? It's something that many of us don't like to think about but is a potential issue as we age.  Did you know that According to the CDC, in the United States, about one in four adults (28%) age 65 and older, report falling each year. This results in about 36 million falls each year.  It's no surprise that the bathroom is one of the most dangerous rooms in a home.  Let us help. With our high-quality bath tub lift chairs for sale! 
These products provide excellent support as well as comfort to those who may require assistance when entering or exiting their bathtub. We're also ideal in situations where limited mobility due to injury or chronic issues prevents someone from standing unaided.
Call Before You Fall provides an extensive selection of affordable solutions to keep you safer at home.. Our innovative line includes easy-to-use bath lifts designed with high end materials for years of use.  If you live in Los Angeles, California – contact us today if you want more information on how we could make it easier and safer for you and your loved ones to age in place.
How Bath Safety Products Helps
Bath tub lift chairs from Call Before You Fall can be the perfect solution to ensure a safer bathing experience. These aids are designed to help you or a loved one with  getting in and out of a bathtub more safely.
Call Before You Fall's bath tub lift chairs are also incredibly easy-to-use and operate with a simple control system allowing users greater independence. They help get in and out of the bathtub more safely.
Furthermore, these innovative lifts have you covered, whether it's for injury recovery or chronic conditions like arthritis symptoms where getting up and down gracefully becomes challenging due to pain or stiffness. 
Call Before You Falls' bathtub lifts come with multiple features. Like stable back support systems and an easily customized height adjustment option according to one's personal preference providing utmost comfort during use.
Investing in our bath-lift devices today allow Los Angeles homeowners a less stressful and more rewarding experience in your own tub and bathroom.
Benefits of Getting Bath Tub Lift Chairs for Sale from Call Before You Fall
At Call Before You Fall, we provide top-notch bath tub lift chairs with numerous advantages aimed at providing a level of safety and convenience that you won't find anywhere else!  We do this by installing and training the user on proper use.
But what are some other reasons to consider investing in our cutting-edge solutions? 
Ease of Use: Our bath lifts make it easy for anyone to access their bathtub with less worry about slipping or falling.
Increased Independence: By using our bath lift chair, those with mobility issues will no longer have as much reliance on others when wanting self-care time. They will maintain independence which dramatically boosts confidence and improves mood.  Soaking in a warm bath is also enjoyable, let's not forget that.
Comfortable Positioning: Our seats have been specially crafted so that you can recline at an angle suitable for prolonged sitting without feeling uncomfortable due to excess pressure points building up around your body parts.
Affordable Solutions: If cost worries you, don't stress! Because Call Before You Falls offers affordable bath tub lift chair pricing including delivery and training on proper use.  With all these amazing benefits at affordable prices, why wait?
Make sure to visit us today if making your shower experience safer is essential. With numerous options for bath tub lift chairs available only tailored towards specific requirements, we promise there is something made possible solely designed around making life accessible again trouble-free! Contact Call Before You Fall today!
Shop Bath Transfer Chairs | Shop Grab Bars | Shop Non Slip Coating | Shop Shower Chairs | Shop Bath Safety Products