Overhead and Fixed Ceiling Lifts in Los Angeles
A stationary lifting solution, consisting of a ceiling lift unit mounted on a permanently installed rail system, is an ergonomically ideal alternative that eliminates the need for manual lifting and allows the caregiver to always choose the optimal working stance. The lift system is always in place, requires a minimum of floor space, is very easy to maneuver, provides a large lifting area, and enables both low and very high lifting.
Call Us with Any Questions or to Schedule an Assessment.
Call Before You Fall offers a wide selection of ceiling lift units for all situations, settings and users, offering different lifting capacity, features and functionalities. There are two ceiling lift units available for a track system: a fixed motor and a portable motor. A fixed motor is a permanent fixture on the rail with a weight capacity of up to 1,000 lbs, whereas a portable motor can be used on multiple different systems and has a weight capacity of up to 600 lbs.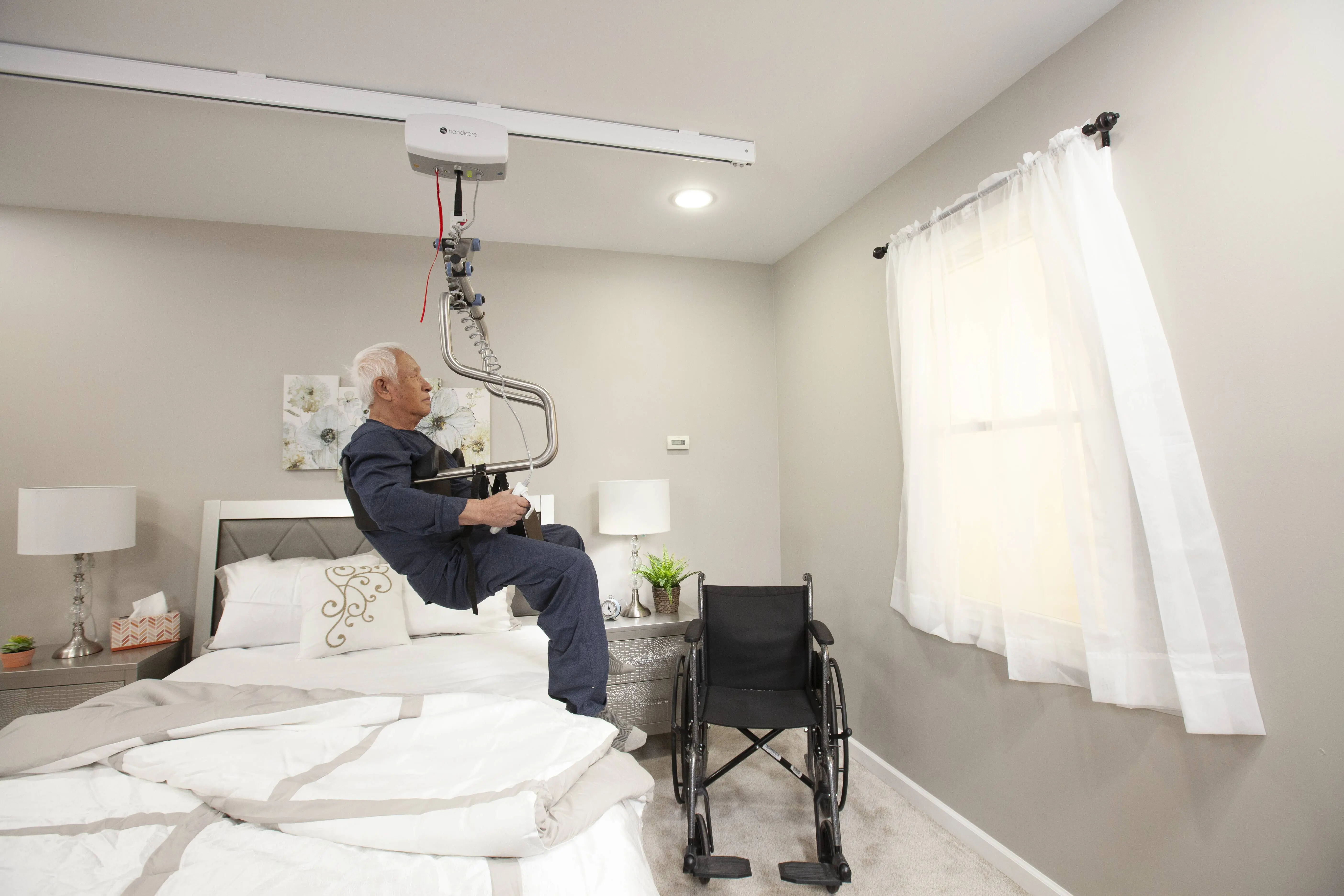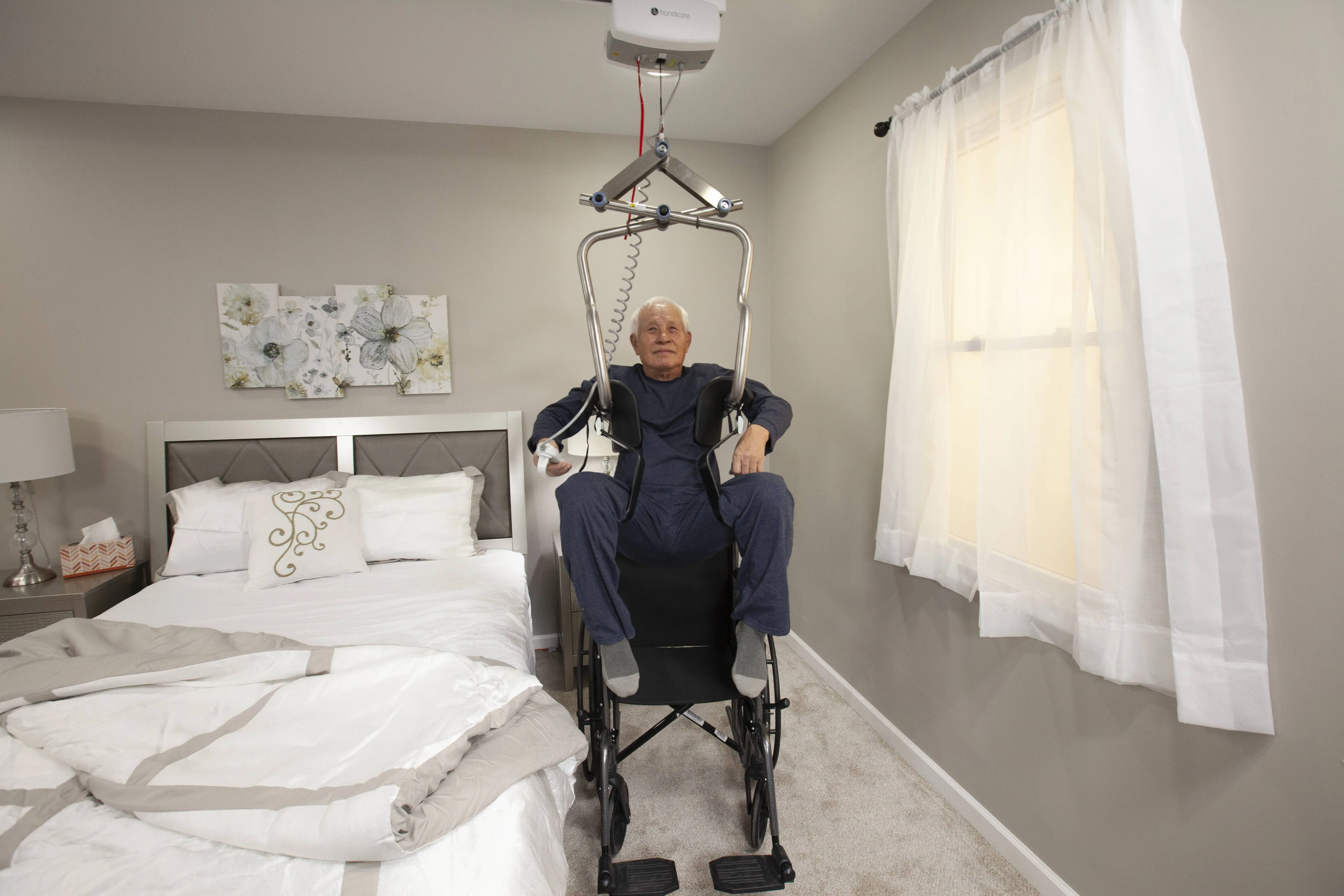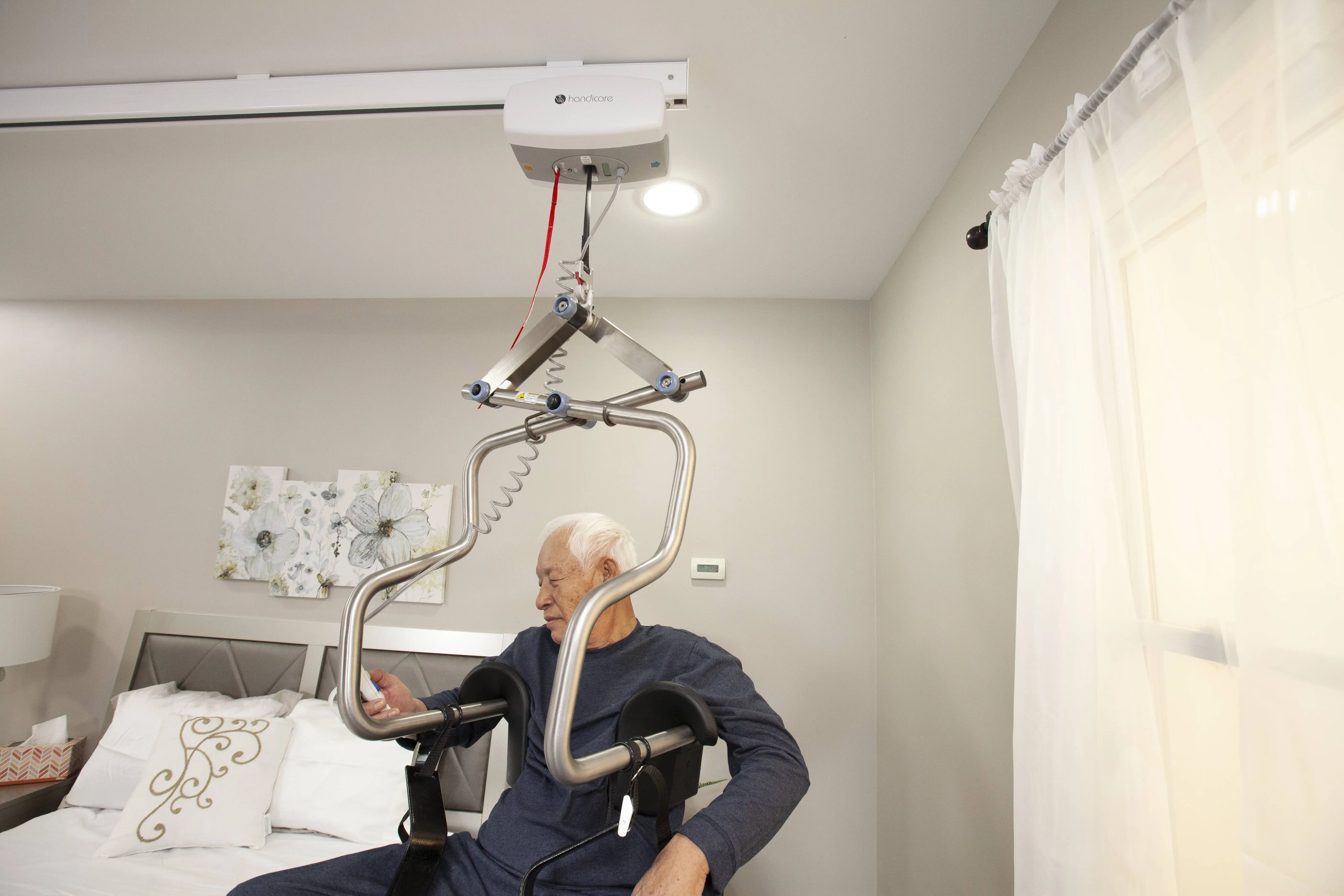 Fixed Ceiling Lift in Los Angeles
Call Before You Fall is here for you or your loved ones facing mobility challenges that make it difficult to move around and perform everyday tasks comfortably. You can help ensure safety and independence at home with our fixed ceiling lift systems. Our fixed ceiling lifts are designed to help those who face difficulty moving from one place to another within their homes due to injuries or disabilities.
Whether it's getting out of bed safely, transferring from a wheelchair onto a toilet seat, taking a bath without any assistance, or leaving the house gracefully, our fixed ceiling lifts can support all these needs. So why struggle when there is an easy solution available right now?
With Call Before You Fall's trusted expertise in mobility safety products, combined with advanced technology, come these ceiling lifts—a smart product engineered to take every aspect of medical hygiene into consideration.
Reach out and discover how our high-quality line of lift solutions available throughout Los Angeles could transform your day-to-day life! 
How Fixed Ceiling Lift Helps
Our fixed ceiling lift is an essential safety product that can help transform everyday movement and positively impact your quality of life. It provides support for individuals who face difficulty standing or moving around their homes, especially after an injury or when normal mobility is limited due to age-related conditions.
Fixed ceiling lifts are specifically designed to safely transfer those with mobility issues between different surfaces, such as from bed to wheelchair or vice versa. By using the easy-to-operate Call Before You Fall system, you'll ensure less strain on both the caregiver and user while also reducing the possibility of further injuries that could occur during manual transfers.
Whether you're dealing with back pain from lifting loved ones manually every day or eliminating dangerous situations like slip-and-fall injuries caused by unassisted transfers, our fixed ceiling lifts offer large medical comfort at a smaller price! 
Benefits of Getting Fixed Ceiling Lift from Call Before You Fall
Investing in your mobility is vital when it comes to retaining and supporting your quality of life. Fixed ceiling lifts are versatile and life-changing mobility aids that enable individuals who have difficulty accessing different parts of their homes to do so comfortably while upholding both safety and independence. With our range of products, Call Before You Fall provides lifting solutions catered to various requirements and made available throughout Los Angeles.
Here are some benefits you can expect when getting a fixed ceiling lift installed by us:
Increased Freedom: Our fixed ceiling lifts grant increased freedom indoors without relying on someone else's support or waiting for someone else's schedule.
Enhanced Safety Features: One significant advantage of buying elevator systems from professionals like Call Before You Fall is the guarantee they offer on their installations' security aspects.
Easy Installations: With product installation done by experts using sturdy material that lasts longer than traditional equipment, easily maneuverable hoists move patients safely between rooms.
Improved Quality of Life: Having greater indoor access means no more worries about falls or restricted movement around the house. This provides much-needed peace of mind in day-to-day living.
Customizable Options: Our fixed ceiling lifts are always made with customization preferences in mind, allowing easy fitment into any range. 
Experience top-notch quality living right now—choose smartly today! Get a hold of our fixed ceiling lift and enjoy independence in a great manner!
Shop Transfer Lift Systems | Shop Portable Pool Lift | Shop Vertical Overhead Patient Lift | Shop Freestanding Lifts