Toilet Seat Riser for Handicap in Los Angeles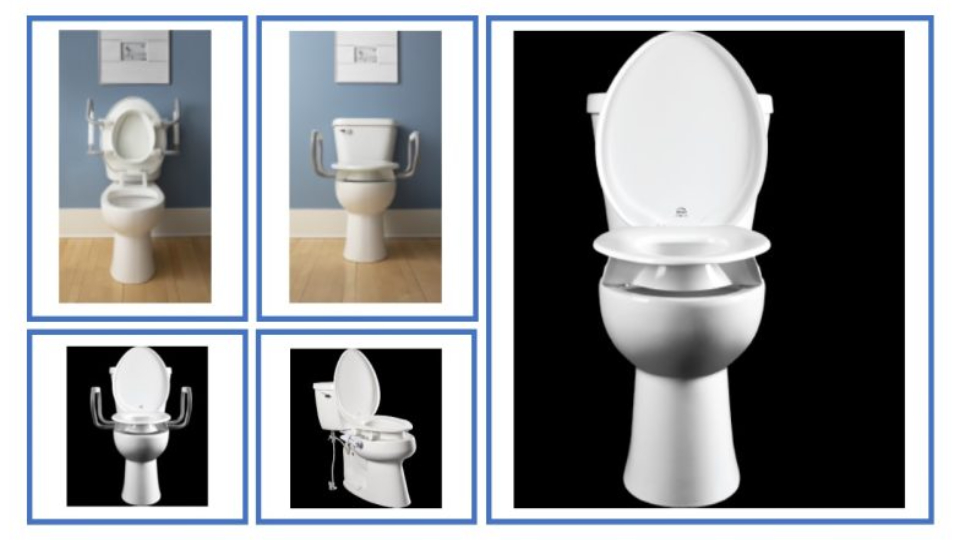 The Toilet Tilt is a patented toileting aid that lifts to your natural body movement, providing the independence needed to maintain dignity in the bathroom. By combining the functionality of a heavy duty commode and a lift chair, the lightweight and durable Toilet Tilt offers an easy-to-use bathroom safety solution.
It also features handheld control to make the lifting process convenient for the user or caregiver. Designed for quick, simple installation. Available in battery or corded power. The heavy duty chair and powerful lift are lightweight and durable offers an easy-to-use bathroom safety solution.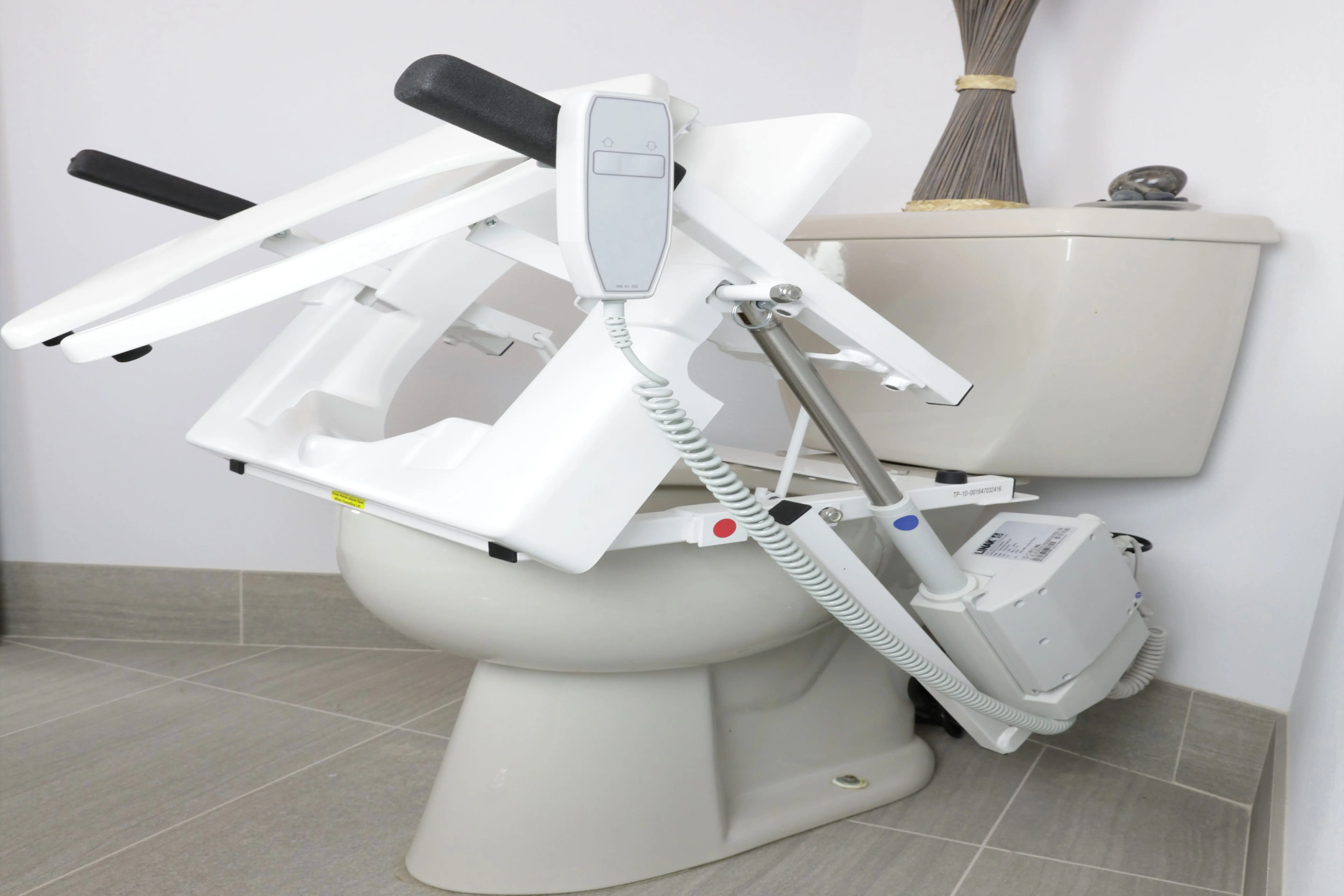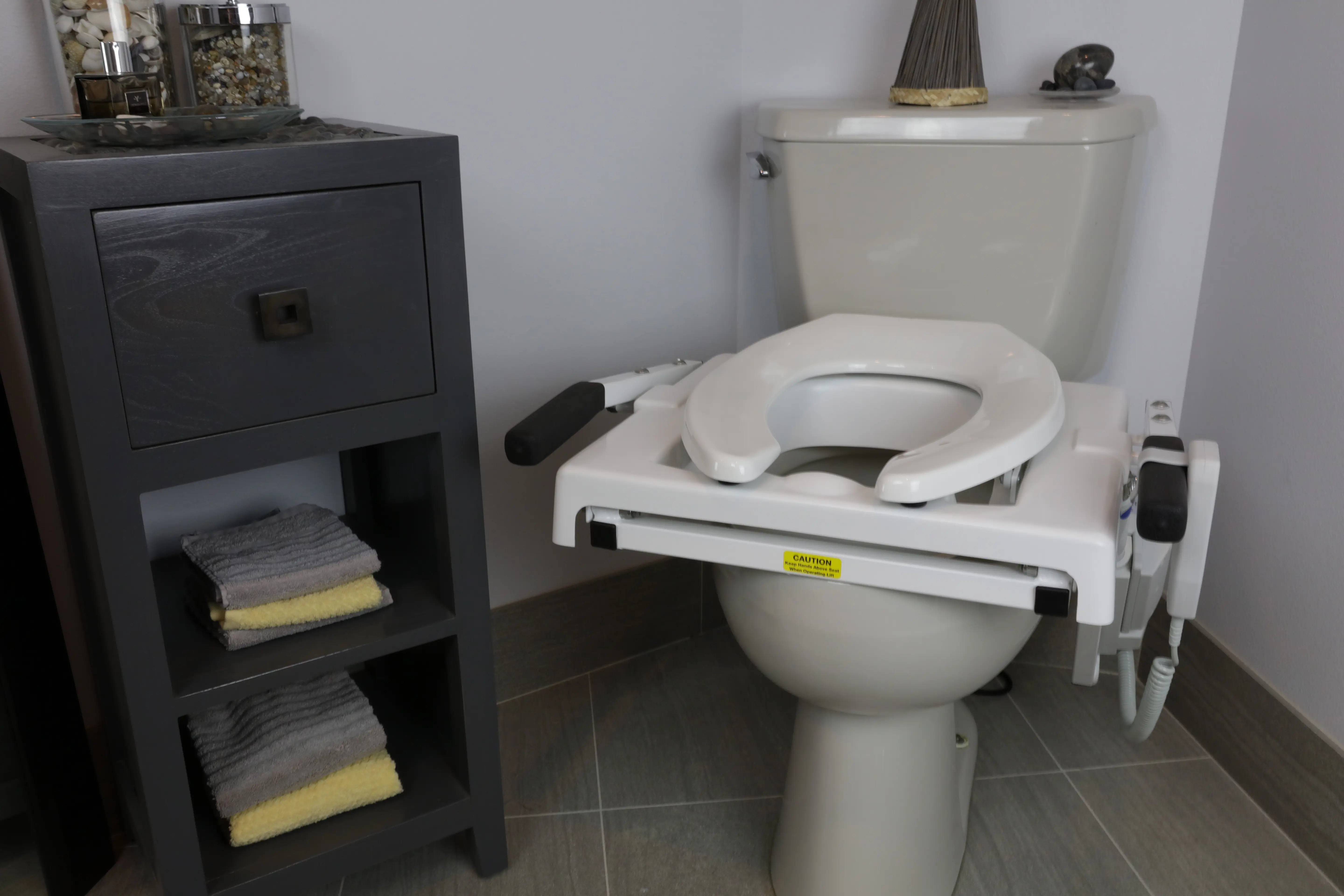 Features a  handheld control to make the lifting process convenient for the user. It's quick and easy installation. Available in battery or corded power. Contact us now to get started with your evaluation and to install a toilet tilt in your bathroom.
Toilet Seat Riser for Handicapped in Los Angeles
Have you been considering bathroom safety appliances for a loved one who's struggling due to mobility issues but isn't sure where to start? Here in LA, Call Before You Fall's high-quality toilet seat riser for handicapped individuals is designed with both comfort and functionality in mind. 
Say goodbye to uncomfortable toilet transfers and hello to greater independence with the help of our reliable product! With handles designed specifically for added support, it provides confidence during use while conveniently fitting over most standard toilets. 
Whether you need it yourself or want peace of mind knowing your loved one has extra support when they need it most – Call Before You Fall has got your back! 
How Toilet Seat Riser Helps the Handicapped
The toilet seat riser from Call Before You Fall is a great solution for elderly and handicapped individuals who may be struggling with mobility issues. Using the product can make it much easier for users to sit down on and stand up from their toilet when using the bathroom.
By increasing the overall height of the toilet seat, our product helps those experiencing limited mobility avoid painful bending or straining. The design also includes handles that provide additional support during transfers onto or off of the raised surface.
Easy installation means no professional help is needed to install it! It conveniently fits over most standard toilets that require little maintenance, making this riser an excellent investment toward more independence!
Benefits of Toilet Seat Riser for Handicapped from Call Before You Fall
With mobility challenges, everyday tasks such as transitioning to and from standard toilets can be a significant burden. That's where the Call Before You Fall toilet seat riser comes in—designed with both comfort and convenience in mind.
Here are just a few ways our product could make life easier:
Greater mobility: With its ergonomic design featuring easy-to-grip handles on either side, users can safely maneuver onto or off of their existing toilet with less risk of falling.
Easy installation: We believe bathroom safety shouldn't come as an inconvenience. Our risers easily install over most standard-sized toilets!
Better use experience: The elevated height means your body doesn't have to struggle to get up/down anymore!
Durable materials and lasting benefit: Made using durable materials that ensure long-lasting use without giving out
Affordable Mobility Solution: For all those looking for affordable options while keeping quality intact, this device will provide supreme help when users require it most.
Designed by professionals with years worth of clinical tests and trials, our high-quality product gives caregivers peace of mind while providing added support where needed.
We believe every individual deserves greater independence and security within their own home environment, regardless of physical ability. So, choose Call Before You Fall – we put safety before all!
Shop Shower Chairs | Shop Roll-In Shower Chairs | Shop Super Pole | Shop Support Station By Rifton