Super Pole Grab Bar in Los Angeles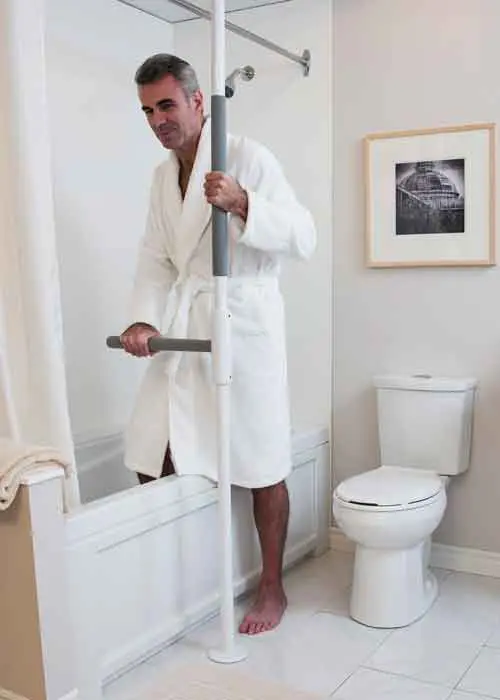 SuperPole is ideal for any type of room. It provides functionality and stability for people that need to use it the most. Its easy to use and makes it adjustable to any room in your home. You can use it for bathroom safety, or as a grab bar for your bed, the SuperPole is a  multi-purposed tool that helps you with all your needs.
Super Pole are heavy duty that support users up to 450lbs when standing. Pole installs easily without marring the floor or ceiling. Has a comfort grip and easy to support.
FEATURES
SuperPole is a floor-to-ceiling safety pole installs in minutes via tension between floor and ceiling, easy to relocate or remove with no damage to ceiling
As mobility needs change, accessories can be added onto the SuperPole to offer more advanced support (see SuperBar)
Fits ceiling heights 93″ to 99″
Installation options sold separately for higher ceilings and angled ceilings
Anti-microbial white powder coat finish
Latex-free, non-slip, PVC closed foam grip material
SuperPole supports up to 300 lbs.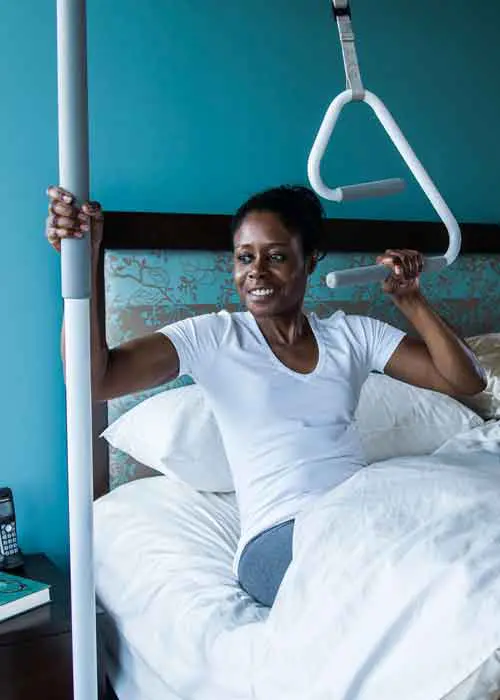 Super Pole in Los Angeles
If you or someone in your family experiences mobility issues, then bathroom safety is a top priority. While it may not always be possible to renovate your entire bathroom, there are affordable bath safety products available that can greatly improve safety and independence. One of these must-have products is the Call Before You Fall's Super Pole.
The innovative design of our specially engineered Super Pole provides unparalleled support and sturdiness when entering or exiting any room, with high-impact weight-bearing strength up to 450 lbs (204 kg). Its height-adjustable feature ensures variable use in varying settings, such as asymmetrical flooring, where traditional rails fail miserably without providing optimal comfort, which affects confidence while walking.
Don't compromise when it comes to maintaining fall prevention  at home. Improve your overall quality of life by incorporating our versatile and user-friendly Super Pole into your daily routine today.
How Super Pole Helps
The Call Before You Fall's Super Pole is designed to help individuals with mobility challenges in and around their bathrooms. It provides sturdy support that can be used when getting up from or sitting on the toilet or entering a bathtub or shower. The height-adjusting feature of our Super Pole ensures optimal comfort along with stress-free access where traditional aids fail so often.
It also helps prevent accidents by reducing the risk of slips and falls, which are common in wet areas such as bathrooms, helping you regain your independence, and providing a more dignified user experience compared to cheaper alternatives out there.
With its modern design, versatility, and easy installation process it becomes an affordable solution even for renters, where home improvement might not be best suited.
Benefits of Getting Super Pole from Call Before You Fall
As we mentioned earlier, safety should always be a top priority in any bathroom. By incorporating Call Before You Fall's Super Pole into your daily routine, you're decreasing accident potential from slips and falls and also providing an opportunity to maintain independence and confidence.
Here are just some of the benefits you can expect when getting our Super Pole:
Sturdy Support:

Our Super Pole is specially engineered with high-quality materials that provide unparalleled support when entering or exiting any room.

Built-to-last:

We craft each unit with superior durability and strength, which ensures years of reliable use without wear-and-tear damage.

Adjustable Height Settings:

Every home is different. That's why our designer customized it according to varying personal needs, emphasizing craftsmanship in every detail, especially safety concerns.

Easy Installation Process:

Our professional installers have extensive experience installing our products for best use.

Promotes Independence and Confidence:

Reduced reliance on others during showering increases individuality while bolstering self-belief.
Don't wait until it's too late! Install our Super Pole for greater safety, confidence, and peace of mind in managing your bathroom routine seamlessly. Contact us today for more!
Shop Roll-In Shower Chairs | Shop Toilet Risers | Shop Tub Cutouts | Shop Walk-In Tubs