Patient Lift in Los Angeles
WE OFFER FREESTANDING AND FIXED LIFTS AND VPL's FROM TOP MANUFACTURERS
A Solution for Every Situation
Solutions for active users: Call Before You Fall's  transfer-assistive devices help the caregiver activate the user while stimulating a natural movement pattern, which strengthens the user's muscles and provides a sense of independence.
Solutions for active and somewhat active users: Call Before You Fall provides devices for manual supine and/or sitting positioning such as turning in bed, moving higher up in bed, and positioning in wheelchair.
Solutions for passive users: Call Before You Fall offers lifting aids such as mobile lifts, rail systems, ceiling lifts, lifting slings and lifting accessories for mechanical lifting of passive users in most transfer situations.
Call Before You Fall Offers
Ceiling track and mobile lifts for use at home, in hospitals, group & nursing homes or veterinarian hospitals.
Lifting and transfer solutions for active and passive users up to 1,000 lbs.
Products to assist caregivers with manual and mechanical lifts, sit to stand, ambulation support and safe transfers
Comprehensive safe patient handling and mobility solutions
Factory trained technicians
Professional installation and training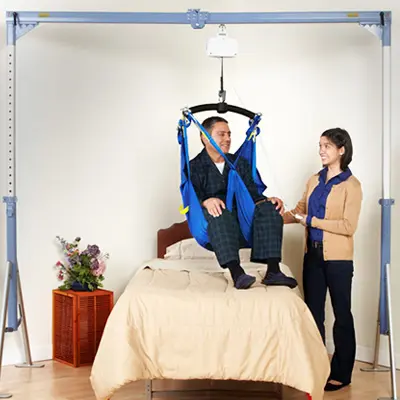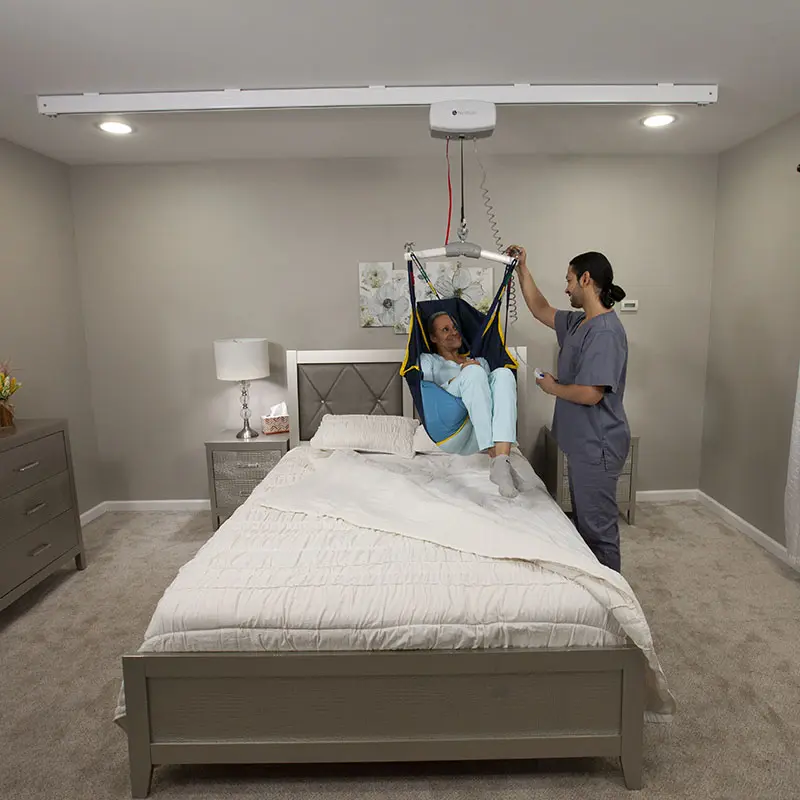 Overhead or Fixed Ceiling Lifts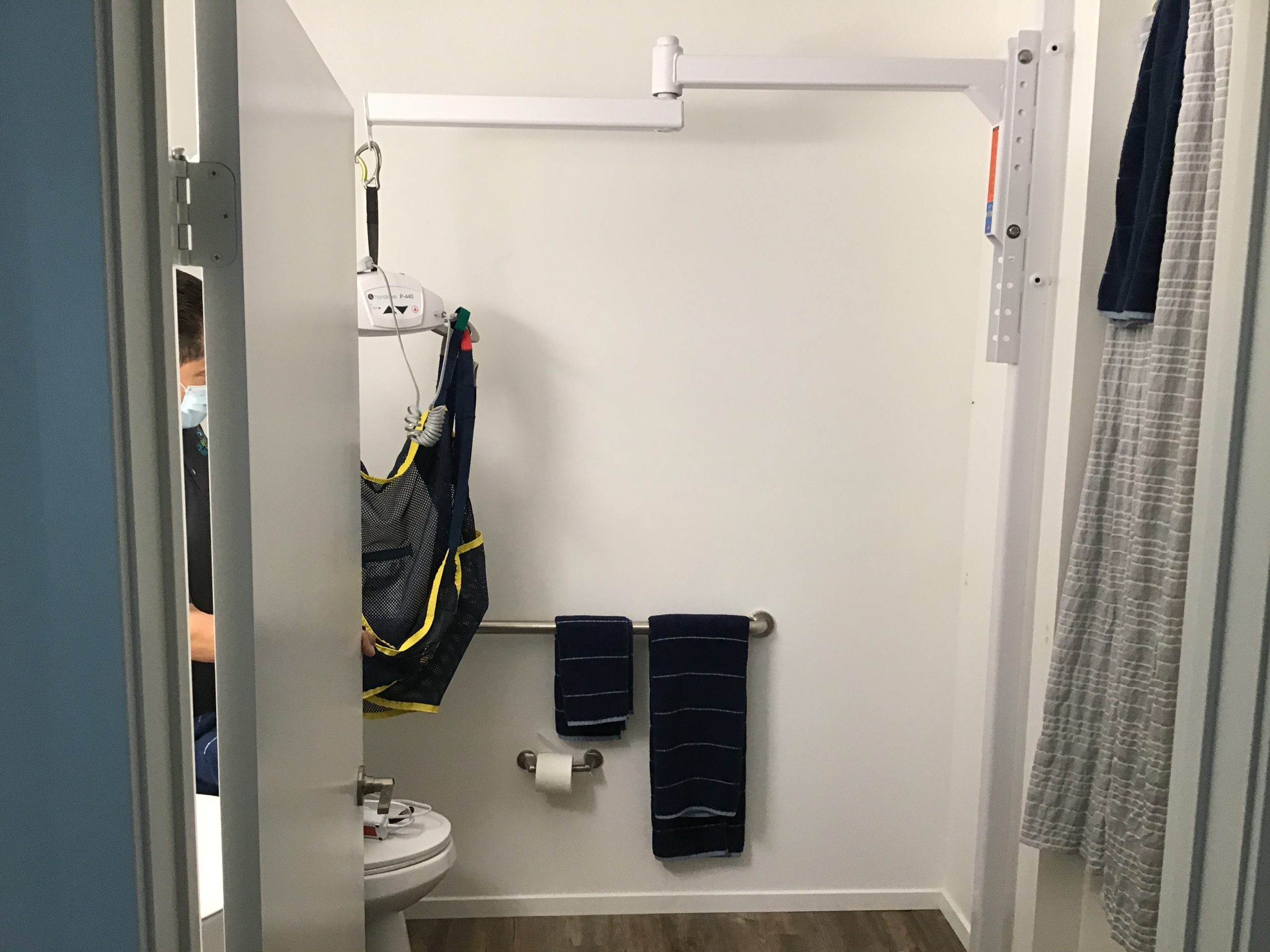 Vertical Overhead Patient Lift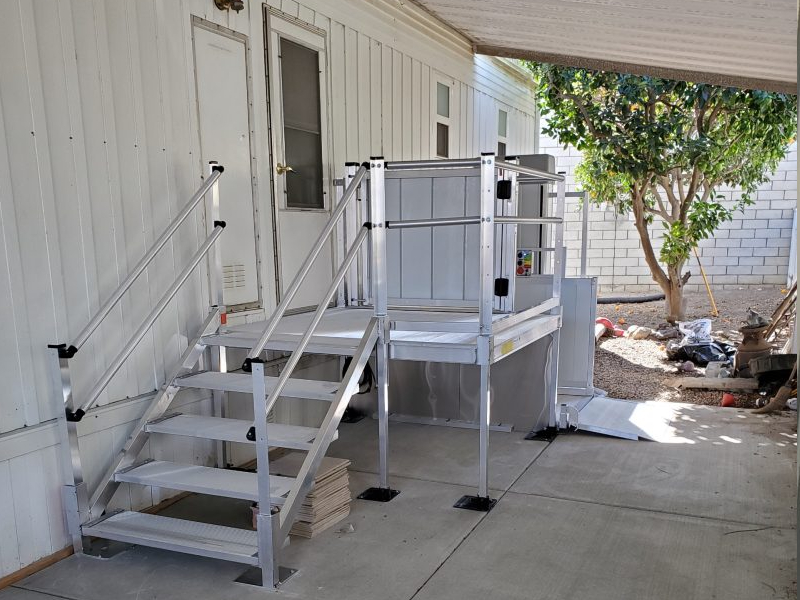 Transfer Lift in Los Angeles
If you or someone you love has mobility challenges that make getting in and out of bed or a wheelchair difficult, then Call Before You Fall has got you covered. Our transfer lifts are designed to help people with varying levels of physical ability improve their independence by making transfers safer and more efficient.
Our overhead patient lift system is engineered using top-quality materials and cutting-edge technology. Whether it's our single-post design or multi-post options, our transfer lifts provide secure support without compromising on comfort.
For homeowners planning to incorporate a safe mobility solution into their home setup, look no further than Call Before You Fall! With locations across Los Angeles County, California, purchasing an overhead lift system from us has never been more straightforward!
Don't let your mobility issues keep you down; get back up with this revolutionary technology today! 
How Transfer Lift Helps
A transfer lift is an assistive device designed for people with mobility challenges who require assistance transferring from one place to another. Whether getting in and out of bed or moving from a wheelchair to a chair, our overhead lift system makes these tasks easier and safer. 
Using an overhead patient lift allows users greater freedom and independence, as well as reducing the risk of injury to both themselves and their caregivers. Our transfer lifts are adjustable to fit your specific needs; they can handle different weight capacities depending on what you need.
Investing in this revolutionary technology will ease worries about transfers around the house or going outside for appointments! With years of experience providing mobility solutions across California communities, Call Before You Fall knows how much impact quality equipment can have on someone's lifestyle! 
Benefits of Getting Transfer Lift from Call Before You Fall
Getting an overhead patient lift system from Call Before You Fall means giving yourself or your loved one increased freedom, safety, and peace of mind both at home and in professional care settings.
Here are some major benefits our top-quality transfer lifts bring to your life:
Safer Transfers: Our overhead lift systems provide secure support while transferring individuals between beds, wheelchairs, commodes, etc., eliminating any risk associated with manual transfers.
Time-Efficient: With our state-of-the-art single-post design and advanced features like multi-post options, transfers become much quicker, eliminating undue strain on both patients as well as their caregivers!
Improved Quality of Life: Worried about decreased flexibility? Just relax—our exceptional maneuverability offers better positioning through controlled movements that restrict unnecessary stress placed on joints by conventional methods.
Increased Freedom and Confidence: Permitting users to enjoy various indoor activities without restrictions makes anyone feel good! No barriers mean genuine liberation – Swing into action today by making an investment in yourself or loved ones' independence.
So what are you waiting for? Contact us today to purchase LA's preferred brand when it comes to reliable and safe mobility products!
Request A Home Assessment
Does your home need modifications to make it safer and more accessible for yourself or someone you love? Call Before You Fall can help.