EZ Access VPL in Los Angeles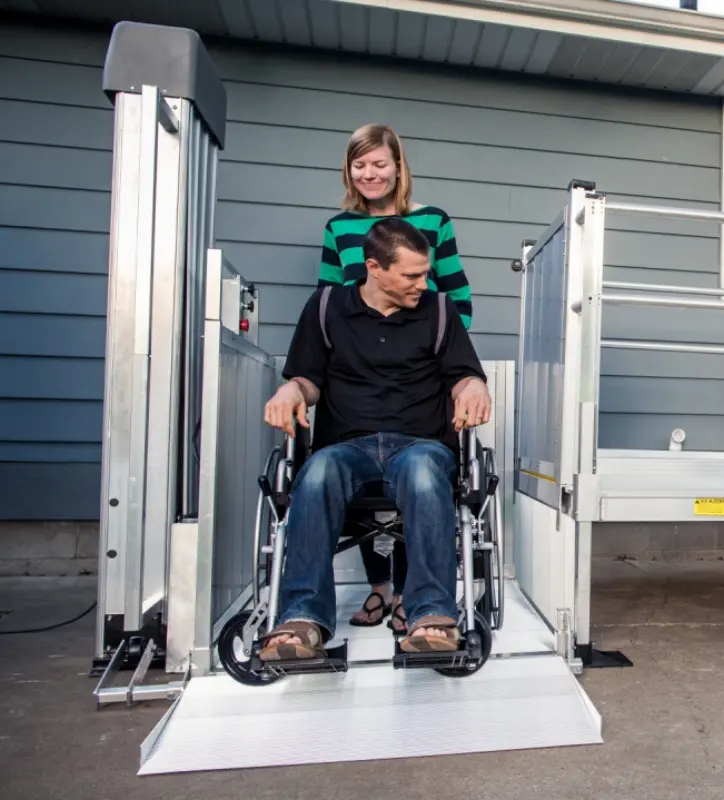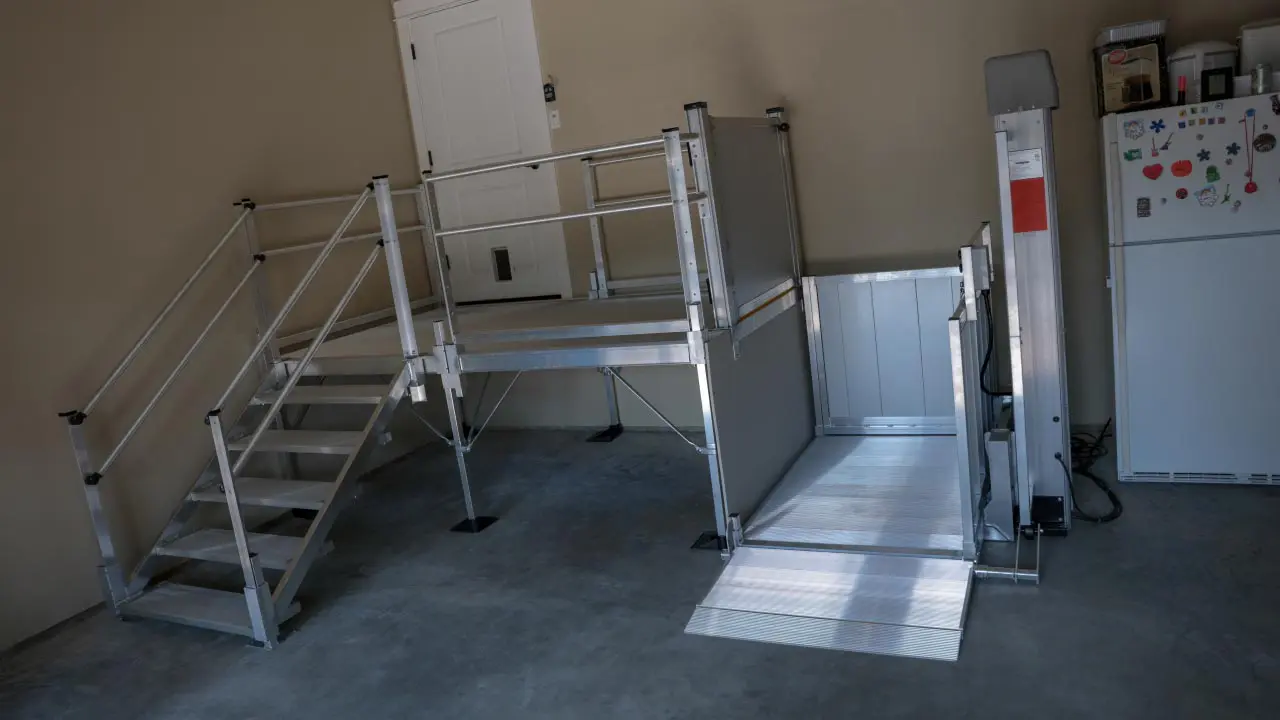 Installation
Same day installations available.
Removal of the unit and track leaves minimal footprint.
Safety – Operational in upward direction, the lift is well-fitted with an undercarriage platform safety pan obstruction detector. The detector detects any obstruction easily and stops the lift by putting less than 15 pounds of pressure.
Diagnostics – The LED lights on the control box ensure high visibility for troubleshooting purposes.
Control Box – Multi-positional control box operates with keypad and it features low pressure, large and mushroom head control switches including the emergency stop switch.
Universal Access – Entry ramp (24 inch) is self-actuating and easy to assemble.  Entry/exit is on either side of the platform. As a safety measure, the ramp folds upward for preventing the chances of accident.
Adaptable Unit – For meeting varied requirements of individuals, the lifts are configured with multiple lifting heights and platform.
Product Description:
The PASSPORT® Vertical Platform Lift takes safe access to the next level, providing a quiet, smooth ride to your next destination. This Vertical Platform Lift is used most commonly for individuals with limited mobility and is the perfect solution for any difficult pathway, porch, or platform. The PASSPORT features durable aluminum construction and is the lightest residential platform lift on the market, weighing an estimated 300 pounds lighter than comparable steel units.
Pricing
Contact us for pricing details, including installation.  Same-Day Installation Available.
The Call Before You Fall Advantage
Preventative maintenance service appointment at the one-year-mark ($350 Flat Fee)

Lifetime warranty on motor parts*


1-year labor warranty on parts covered by lifetime warranty
Installation & delivery by factory trained and certified technicians

Free Home Assessment (We will evaluate the holistic accessibility needs)

Local showrooms and service departments
*Applies to original owner of new VPL
EZ Access VPL in Los Angeles
Have you ever faced problems with mobility due to physical disabilities or old age? Do you yearn for increased independence and convenience when it comes to moving around in your home every day? Then we have an excellent solution just for you – EZ Access VPL from Call Before You Fall!
The vertical EZ access VPL has completely revolutionized the way we travel up and down stairs. And now, thanks to this innovative product, homeowners planning on incorporating a wheelchair lift into their homes can enjoy greater accessibility without spending a fortune.
EZ Access platform lifts are secure, durable systems that make maintaining mobility in any space possible. It ensures maximum safety at all times while providing an efficient way of traveling between floors! 
Do not let impaired movement capabilities hamper self-exploration or prevent social interactions; replace them today with our brand-new range of products.
How EZ Access VPL Helps
EZ Access VPL provides a reliable way to navigate between floors of your home without taking up additional space. This innovative platform lift solution is perfect for those looking for an easy-to-use alternative to traditional stairlifts.
The EZ Access vertical platform lift can be installed both indoors and outdoors, making it an ideal option regardless of weather conditions. The wheelchair lifts are expertly designed and manufactured with precision, providing maximum security while traveling upstairs or downstairs.
Not only does this product provide enhanced mobility around your home, but it also promotes more independence by eliminating the need for assistance when getting from one floor to another. Ultimately, it gives you peace of mind knowing that individuals who face mobility challenges can easily move through their living spaces!
Don't let stairs prevent you from enjoying all areas of your house!   
Benefits of EZ Access VPL from Call Before You Fall
Call Before You Fall EZ Access vertical platform lifts can be conveniently installed in your home or office space, providing countless benefits that are sure to make a lasting difference. Here are some of the top advantages you'll enjoy with our products:
Improved accessibility: If navigating stairs has been an issue for you due to aging, disability, or injury, then our state-of-the-art lifts will enhance your mobility experience at all skill levels.
Superior safety features: We use advanced quality measures when it comes to designing and developing great solutions like an emergency stop button for immediate control in case of any emergencies.
Multiple installation options available: Indoor or outdoor compact models; make it optimally convenient so that one product gives multiple uses.
Efficient use of space: The vertical nature means no more wasting valuable floor area, which saves room without sacrificing functionality
Our extensive range of products is successfully combined with outstanding customer service provided by well-established employees who work ethically at Call Before You Fall. Ensure maximum flexibility with us, where everything is operated the only way you want it to!
So, are you ready to take back control of your space? Contact us today and see how easy it is!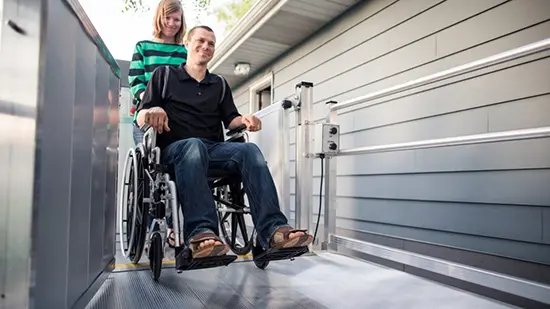 Learn more about the EzAccess Vertical Platform Lift.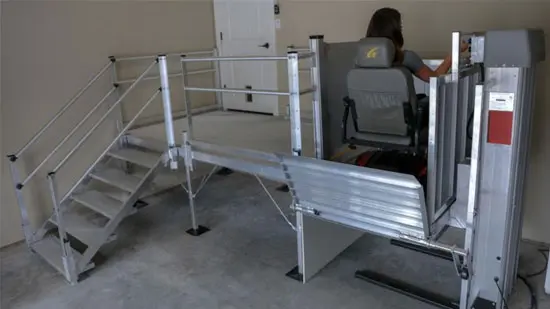 Learn more about the requirements for installation.
Improve Your Mobility and Safety with a VPL. Request a Home Assessment Today!