Wheelchair Lifts in Los Angeles
WE OFFER TWO OPTIONS FOR PORTABLE WHEELCHAIR LIFTS.  PLEASE CALL ONE OF OUR MOBILITY AND SAFETY CONSULTANTS FOR MORE INFORMATION.
Portable lifts are a great alternative to costly construction and are also a great tool for those who travel as well as an emergency backup for getting down the stairs.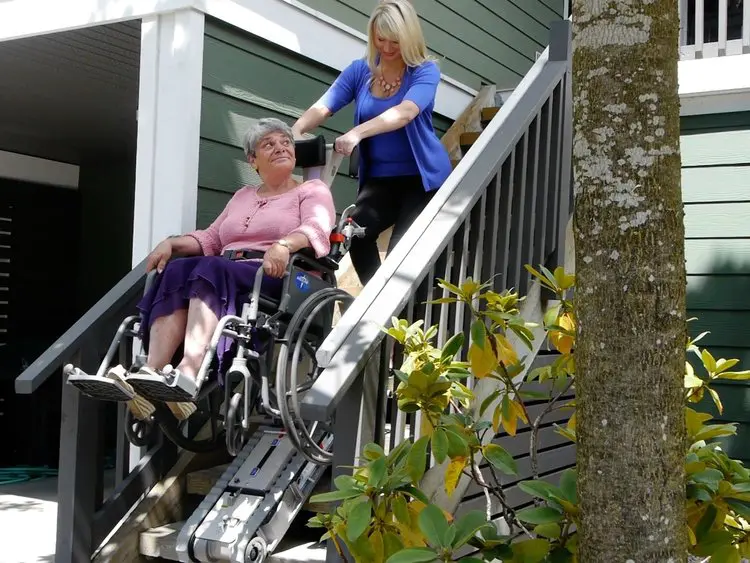 Stair-Trac
The Stair-Trac is a portable wheelchair lift that attaches under most standard wheelchairs and can be used indoors or outdoors. It allows an attendant to easily move a person in a wheelchair up and down stairways with the touch of a button. The Stair-Trac is an affordable access solution that is available immediately.
On school field trips, church excursions or weekend drives, this portable wheelchair lift is easy to load into vehicles using the optional loading ramp and fits in most car trunks.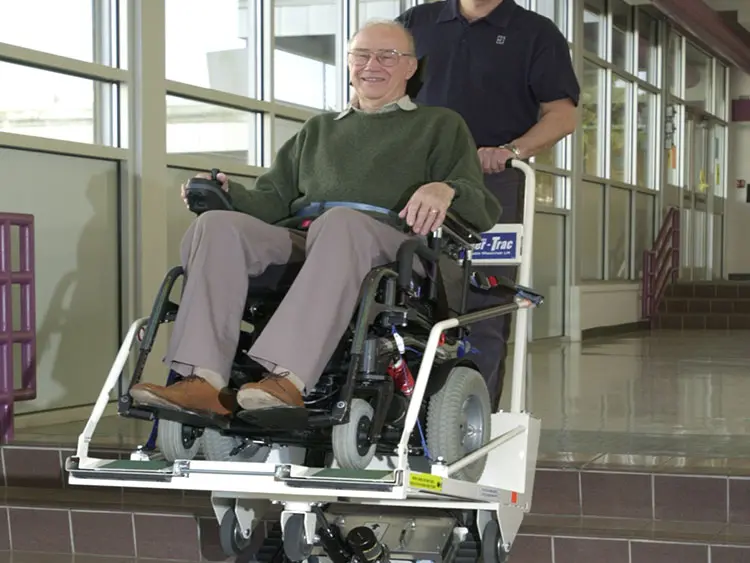 Super-Trac
The Garaventa Super-Trac is a portable wheelchair platform lift that provides instant, affordable accessibility where stairways are a barrier. The unique platform design accommodates all types of wheelchairs including power, child, sports and conventional adult wheelchairs. The Super-Trac is easy to operate, robust and incorporates many safety features.
No costly building renovations, installation permits or licenses are necessary with Super-Trac. For a quick, affordable, accessibility solution, check out the Super-Trac portable wheelchair lift.
Portable Wheelchair Lift in Los Angeles
Are mobility issues limiting your independence around your home? Do you constantly struggle to climb stairs or move around safely and comfortably? If so, then Call Before You Fall has some excellent news for homeowners in Los Angeles. Introducing our portable wheelchair lift—a practical solution to meet accessible needs while promoting progress and confidence without sore arms or pain in back muscles.
Designed explicitly for people who face mobility challenges but aim to retain their hard-won independence, these standing platform lifts are incredibly durable yet lightweight, making them easy to use and transport. Standard features such as safety sensors installed at both ends of the platform provide instant steeper-stop technology, ensuring maximum user safety from tripping accidents. 
With this amazing device introduced by Call Before You Fall, regain access across levels even when space constraints prevent a staircase-mounted installation! Interested buyers can contact us right now. Let's create accessibility in our lives! 
How Portable Wheelchair Lift Helps
The portability of these lifts cannot be overstated. They come with wheels and are compact enough to fit in the trunk of your car for transport anywhere, even from one location within your home to another. But how does this amazing tool actually help you? Imagine getting stuck on stairs or not being able to get off them without assistance – it can be dangerous and frustrating, as well as limiting autonomy.
With Call Before You Fall's Portable Wheelchair Lift, you won't have those problems anymore—no strain from pulled muscles because there isn't an awkward balancing act involved when opening doors simultaneously while holding weighty equipment either! These lifts provide smooth movement between different levels of elevation using advanced technology that doesn't require much user intervention. 
Just sit back (or stand if you prefer) and let our standing platform stair lift do all the work safely and securely, making traveling around more manageable in previously unattainable areas possible.
Benefits of Portable Wheelchair Lift from Call Before You Fall
If you or a loved one have mobility challenges, we understand that navigating stairs and elevated surfaces can be challenging. That's why our team at Call Before You Fall has designed an innovative solution that meets your accessibility needs without sacrificing independence – our portable wheelchair lift.
Here are some of the incredible benefits of incorporating this device into your home:
Easy to use: Our standing platform stair lifts are lightweight and simple to operate, with minimal assistance needed.
Portable: The compact design makes it easy to use in different locations within the same dwelling unit. This feature definitely comes in handy when transitioning from outside into different inside spaces!
Customizable Options Available for Installation: We offer customizable options, so our technicians will assess your space thoroughly before installation as per the respective user requirements.
Safe and Secure Handling Throughout the Process: All involved personnel handle every detail, keeping safety measures top priority during delivery and installation – ensuring safe usage throughout storage mode too!
Realize these benefits! Interested buyers can contact us now and take a step forward towards enabling easier accessibility at home!
Shop Indoor Straight Stair Lifts | Shop Indoor Curved Stair Lifts | Shop Stair Lifts
Request A Home Assessment
Does your home need modifications to make it safer and more accessible for yourself or someone you love? Call Before You Fall can help.