Product Description:
The PAL2 pool lift includes all the great features of our original PAL, with a modernized look and durable matte finish. It is a portable, free-standing pool lift that comes with the PAL Secure-It Kit so that it can be fixed to the deck. Standard features include the LiftOperator® Intelligent Control (mounted on the mast), a 24-volt rechargeable battery, waterproof hand control, footrest and seatbelt assembly.
Key Features
Third-party tested and verified ADA compliant
Integrated armrests
State of California compliant
Easy to move by one person
240° rotation helps ensure safe transfer
Specifications: Lifting Capacity: 300 lbs/136 kg. Powered by a 24-volt rechargeable battery. Powder-coated stainless steel and aluminum.
Part Number(s): 202-0000, 252-0000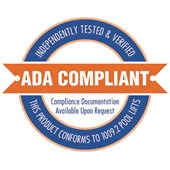 ADA Compliant
Independently tested and verified by a third-party to be compliant with the 1009.2 Pool Lifts of the ADA Guidelines.
Pricing
Contact us for pricing details, including installation.  Same-Day Installation Available.
 Request a Home Assessment Today!