Stairlifts in Los Angeles
WE SELL, INSTALL AND SERVICE  STAIR LIFTS FROM SOME OF THE MOST RELIABLE AND WELL KNOWN COMPANIES IN THE WORLD.
Stairs can be a challenge for those with mobility issues. If you or someone in your home can't easily use the stairs, it may be time to consider a stair lift.  Narrow, steep staircases in older homes are more dangerous than modern construction staircases.  Let us find the right solution for your home and particular staircase.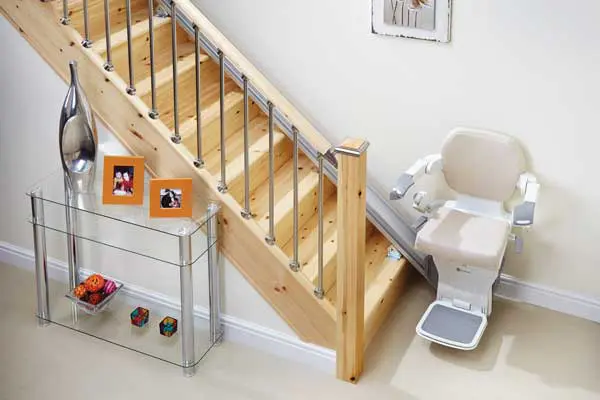 Indoor Straight Stair Lifts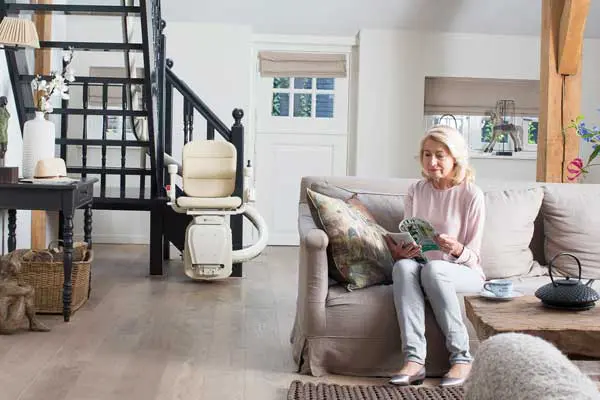 Indoor Curved Stair Lifts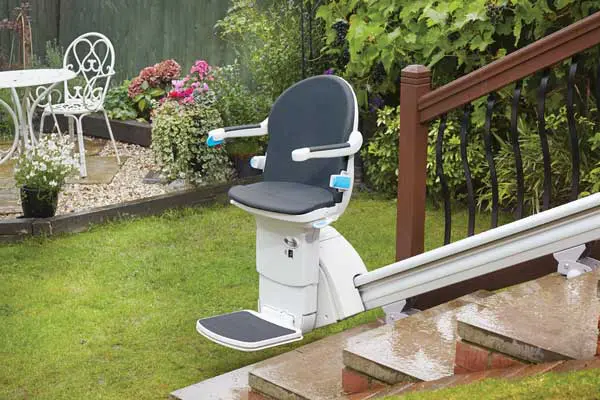 Outdoor Straight Stair Lifts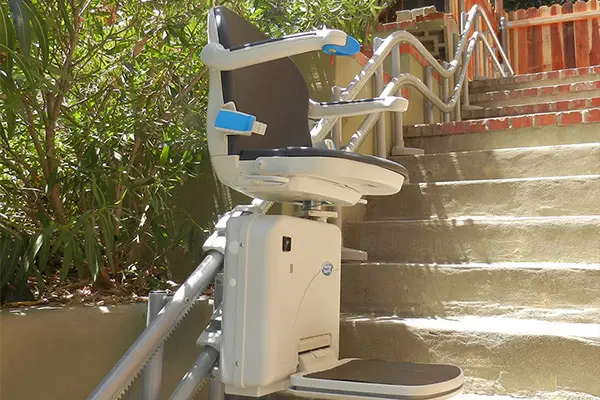 Outdoor Curved Stair Lifts
Everything You Wanted to Know About Stairlifts
What is That Thing That Goes Up the Stairs?  What is a Stairlift?
A stairlift, previously called a chairlift or chair lift, is a device used to transport a person up a flight or flights of stairs.  The stairlift consists of a chair and rail running along the length of the staircase.  It is also sometimes called a stair elevator, stair chair lift, stair glide or "That thing that goes up the stairs."
Difference Between a Stairlift and Wheelchair Lift or VPL-Vertical Platform Lift
A stairlift is a device with a chair attached to some kind of rail allowing transport of a person sitting on the chair.  A VPL or Wheelchair lift, is an elevator like platform used to transport a person in a wheelchair or scooter vertically like a traditional elevator.  A VPL can only traverse up and down and not side to side.
Who Needs a Stairlift?
Stair lifts are designed to assist people who are having difficulties climbing or descending stairs.   Those difficulties can stem from a number of causes; recovery from a surgery, illness, disability, age, etc.
How do I know when it is time for me to get a stairlift?
Each person is different, but, when the stairs become a struggle, or you feel unsafe, it is probably time.  Better safe than sorry.
Average Cost
Stairlift costs vary depending on type of staircase, condition of the user, use of the chair (indoor or outdoor).  Generally, the more turns and bends in a staircase, the higher the cost.  Costs range from about $2,995 all the way up to $15,000 or more.  Some reputable companies may offer used stairlifts for straight indoor or outdoor staircase.
Does Insurance Cover the Cost of a Stairlift?
Unfortunately, even with a doctor's order, standard health insurance policies and Medicare will not cover the purchase or installation of a stair lift.  Insurance considers a stairlift a home modification product versus durable medical equipment.  For veterans, many VA facilities can provide either partial or full funding for the cost of home improvements related to accessibility.
Choosing the Right Stairlift for You
The first thing you need to figure out is what type of staircase you have. Then consider the options you need based on the condition of the user including weight, prognosis and living situation.  Also factor in cost and timing.
When considering cost, take into account the reliability of the manufacturer and the maintenance needed to keep the stairlift operational.  Once you choose the manufacturer, it is just as important to choose the right dealer.  Do your research online on both.  The more you know about what you need and want, the better off you will be.
What Type of Staircase Do You Have?
Stairlifts are either straight, or not.  Those which are not are custom made.  You can also have indoor or outdoor models for both straight and custom units.
What Maintenance Does a Stairlift Require?
Stairlift maintenance is a very important topic to discuss before you buy a stairlift.  All stairlifts require basic maintenance to keep the unit clean of any dust, debris and other obtrusions which can impede smooth operation.  Most will only require a yearly maintenance which should cover a routine multi point inspection.  This should include cleaning of the unit and rail, reapplying lubricants, tightening and realigning the unit, checking the battery.
How Much Will Stairlift Maintenance Cost?
Regular maintenance should cost between $200 to $400 plus any needed parts. Be very careful of companies who charge by the hour or charge for return fees.  As attractive as an hourly fee is, it will usually cost more than a set fee.  With a set fee, the installers will want to get in and out as quickly as possible, and carry extra parts on their trucks to avoid having to come back. If they bill by the hour, less incentive for the installers to carry the part on the trucks or work quickly.
Also, avoid any service contracts or mandatory service.  Clean the unit and only call for service if something doesn't feel right or has an issue.  Otherwise, just call for service as needed.
How Often Will the Batteries on a Stairlift Need to be Replaced?
The answer is it really depends.  It depends on a number of factors including: how long did the stairlift sit before it was installed?  How often is the stairlift used? What is the weight of the stairlift user?  How steep is the staircase the stairlift is on, etc?  Some will last a year while others could last 7 years.  On average, 2-5 years is a good guideline.
How is a Stairlift Powered?
Most stairlifts are powered by a regular house outlet and charge the batteries in the stairlift.   The 110 outlet acts as a trickle charger and maintains the batteries.  Once the chair is used, the charger automatically replenished the lost charge.  In case of a power outage, stairlifts still have the ability to be used for a number of days before the battery is drained.
Can I Replace Stairlift Batteries Myself?
Not recommended.  Not only will you have to have specific tools and batteries required for the task, but you will also need to be careful not to short out the motherboard of the unit.  The motherboard is the brain in the unit and is very easy to burn simply by touching the wrong parts.  The cost of a new motherboard far exceeds the cost of the batteries.  A motherboard can cost up to $1,250 while batteries from $50 to $85 each.
Can I Install My Own Stairlift?
Most reputable manufacturers will not allow dealers to sell units without installation.  Avoid buying a unit online.  This is a very expensive investment which deserves to be installed by professionals who specialize in stairlifts.  Avoid contractors or jack of all trades.  Stick with companies who do this full time and do not outsource their employees.  Improper installation can lead to serious safety issues and even death.
Are My Stairs Suitable for a Stairlift?
Stairlifts are attached to the stairs and not the wall.  So as long as the stairs are solid and the staircase is wider than 27 inches, you should be able to install a stairlift.
How Long Will it Take Before My Stairlift Can Be Installed?
Installation of a stairlift should take between 4 to 8 hours.  However, the time it takes to have the unit ready for installation can vary greatly.  In the case of straight staircase, if a dealer has inventory in stock, it is just a matter of cutting the rail to the size of your staircase.  If the unit has to be custom made, the process can take up to 6 weeks.  A custom unit has to be made to the exact specifications of your staircase.  The process starts with a specially trained consultant placing specialized discs on each stair and then uploading the measurements to a specialized software package.  Once the upload is complete, a CAD type rendering is made showing the staircase and measuring angles, slopes, widths, obstructions, etc.  Once this is done, engineers review rendering and make any necessary adjustments or recommendations before sending the unit off to production.  The rail is then hand made with every angle taken into consideration.  This process is extremely cumbersome and requires skilled metal craftsmen to shape and mold the rail.  This process alone can take anywhere from 60 to over 100 hours.  Hence, the longer timelines and higher price.
How is a Stairlift Powered?
A stairlift gets its power from batteries which are housed inside the unit itself.  The batteries are then replenished with a regular 110V outlet.  In case of power failure, the unit should still have plenty of battery power to run for a few days.
How Will My Stairlift be Installed?
Stairlifts are attached to the stairs and not the walls.  Therefore, there is no modification of any structural elements.  The unit is secured with bolts which after removed, can be patched leaving little trace of a stairlift ever having been there.
Best Stairlifts of 2018
#1 Handicare
#2 Savaria
#3 Stannah
#4 Bruno
#5 Harmar
#6 Acorn
Most Reliable Stairlifts
Tie between Handicare and Savaria.  Most reliable based on consumer reviews.
Buy Back Options
Many companies will buy stairlifts.  Unfortunately, even though custom staircases are much more expensive than straight, they have no resale value because they only fit one particular staircase.  Even is someone has a track home that has the same exact layout of a neighbor, the unit will probably not fit.  One small variance in slope and the entire unit is completely off.  A millimeter might not seem like a big deal at the bottom of the stairs, but by the time you travel all the way to the top of the stairs, that millimeter can become 12 inches.
Refurbished Stairlifts
Used units are a cost effective way to save money versus a new unit.  However, used units will only work on a straight staircase.  Check the warranty and ask if the units are certified.  Remember, a reliable new unit generally makes for a reliable used units.
Weight Capacities for Stairlifts
Most stairlifts have a capacity of between 250 and 400 lbs.
Stairlift Battery Options
More expensive units generally have larger batteries.
Stairlift Seat Features
Many stairlifts have different size seats to accommodate different size users.
Safety Sensors
Make sure your stairlift has safety and obstruction sensors build into the seat, the footrest and any other moving component.
Key Switch
Make sure your unit has a key switch to ensure you are able to lock the unit  and prevent it from being used.
Calls and Send Controls
Most stairlifts have a control button on the armrest of the chair as well as remote controls.  You will want to place the remote controls at the top and bottom of the stairs in case there is a second user.  It is also convenient to have remotes in case you want to use the stairlift to carry laundry or groceries up or down, etc.
How Safe is the Stairlift?
Stairlifts are relatively safe.  The majority of accidents stem from improper installation, use or maintenance.  Only hire a company who specializes in stairlift installations and has factory certified technicians.
ADVICE ON HOW TO PICK THE BEST STAIRLIFT
-Know the Brands
Research the different brands and read consumer reviews.  Avoid buying online or buying through a dealer that does not service or install the unit..
-Know the Dealer
Just as important as picking the most reliable manufacturer, also do your research on the dealer.  Make sure the dealer has positive Yelp reviews, has been in business for at least 10 years and has a large service department.  If you pick right, you should not have many issues with your stairlift.  However, if it does break, you do not want to wait for weeks for someone to come out.  Also, stay away from dealers who do not offer a flat rate for service or charge you for return trips for parts they do not stock.  Stay away from dealers who do not service at all.  Many dealers want to sell the units and not worry about having to repair.  If your dealer does not have at least 5 full time repair technicians, move on.  If your dealer outsources employees, move on.  You should pay as much attention to service on the initial appointment as the price itself.
-Dealer Certified to Perform the Installation
Make sure your dealer has factory trained technicians.  For an installer to be factory certified, he/she has to fly out and spend a few days at the factory for training.  He/she must then pass a series of tests.  If your dealer does not have factory trained installers, move on.  That means they are either too small to afford to invest in their team or do not see certification as important.
-Make Sure Dealer Understands Your Specific Needs
Look for a dealer who asks questions about the user.  Peoples needs are different and you want a dealer who will sell you what you need and not what they happen to have in stock.  If your dealer has less than 50 units in stock, move on.  You want a dealer who has units in stock and carries replacement parts.  If your stairlift does not function, every minute counts.  You do not want to be stuck up or downstairs waiting for the part to come in.
-Dealer Warranty and Future Maintenance of Your Stairlift
Make sure your dealer has a warranty that cover both labor and parts.  Also stay away from dealers who charge hourly service rates versus a flat fee.  You want a dealer who wants to get in your home and fix the issue quickly and not milk the clock or carry enough parts on their trucks.  Also avoid dealers who charge you for return trips for parts they do not stock.
Where to Shop
We recommend contacting the manufacturer directly and asking for a referral.
Stair Lifts Sale in Los Angeles
A stair lift in your home is a key to enhancing mobility and increasing personal safety when you have someone struggling due to mobility limitations. Call Before You Fall is a leading provider of high-quality and reliable mobility products that cater specifically to homeowners looking for safe, comfortable access to their stairs.
Our stair lifts are fully customizable and fit seamlessly into any design scheme. With innovative features like seat swiveling, sturdy footrests, adjustable armrests, and easy-to-use controls – we have something for everyone!
Don't let physical limitations limit your lifestyle. You can buy from our extensive collection of stair lifts sale today with special pricing offers available. Just give us a call! 
How Stair Lift Helps
A stair lift provides a solution for every homeowner looking for reliable and comfortable access between different floors of their home. It adds an extra layer of safety by minimizing the risk of falls and other accidents that can occur while climbing up or down stairs. The standing stair lift elevator specifically caters to customers facing mobility limitations because it allows users to stand while being safely transported.
Stairs can be a significant hindrance without proper mobility equipment. However, with our best-selling stair lifts for homes in Los Angeles from Call Before You Fall installed in your home, you will enjoy greater independence at any age! 
Our customer support will guide you through every step, making sure that all requirements are met before installing any products.
Benefits of Getting Stair Lifts Sale from Call Before You Fall
At Call Before You Fall, we understand how mobility constraints can impact lives! Our primary focus is providing safe and reliable solutions to help you achieve complete independence at any age. We specialize in stair lifts that cater specifically to homeowners looking for a comfortable and affordable way up or down their stairs.
Here are some key benefits of choosing our extensive range of stair lifts Los Angeles has come to rely on!
Our stair lifts provide secure transfers between floors, minimizing accidents such as falls.

From style considerations like chair upholstery to motor speed settings – we have everything!

With special pricing offers available with our latest sale promotions, there's no better time than now to buy a product from us.

Whether it be an elderly person or someone who has undergone recent surgery or trauma, -our home elevators have user-friendly controls that make usage hassle-free.

Warranty and maintenance services ensure customers get long-term use.
Choose Call Before You Fall if you're seeking trusted professionals in LA with top-quality products designed just for you. Visit us today!
Shop Indoor Straight Stair Lifts | Shop Indoor Curved Stair Lifts | Shop Portable Wheelchair Lifts
Request A Home Assessment
Does your home need modifications to make it safer and more accessible for yourself or someone you love? Call Before You Fall can help.