Portable Ramps in Los Angeles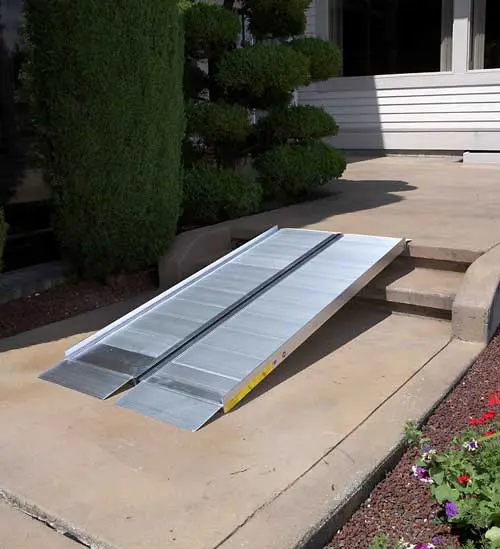 Not all homes need a permanent ramp. Maybe you want to provide easier access for a loved one during a holiday visit, but don't need the ramp during the rest of the year. Or maybe you need a seasonal solution for access to a back deck. In these situations, portable ramps are a convenient, cost-effective option.
Folding Ramps
Foldable ramps have a low profile but can support up to 750 lbs. Single-fold ramps offer a reliable solution for transitioning curbs, thresholds and other obstacles, while multi-fold ramps make using a mobility product easy over entrances, small staircases, and a variety of places in the home and outdoors. For example, an 8′ multi-fold ramp can fold down to 4′ and easily fit into a trunk for travel.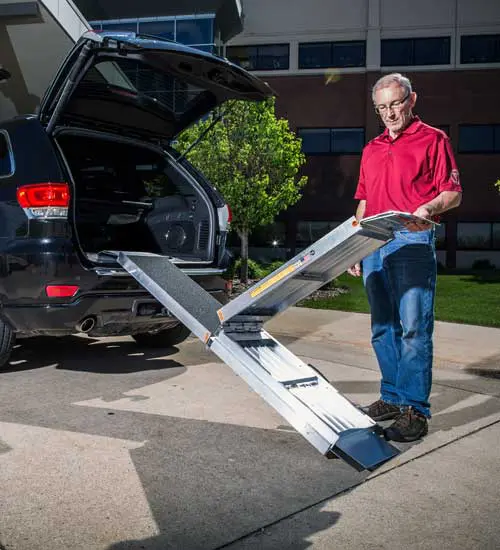 Portable Ramps For Sale in Los Angeles
Are you struggling to move your mobility device in and out of your home because of the steps? Is it difficult to get your wheelchair, mobility scooter, walker, or other mobility device up to your door or over your threshold? If yes, then Call Before You Fall is here to provide an easy and convenient solution available for quick installation. We sell high-quality portable ramps that make access to any building safer and easier to use. Our portable ramps for sale are perfect for people with disabilities or those who face difficulty climbing stairs or threshold ramps due to age-related or other health challenges.
Our portable ramp range includes various sizes based on user needs and the particular application. It increases independence while traveling through different levels quickly with less effort required. Additionally, our products meet the highest industry standards.
Investing in a portable ramp from Call Before You Fall is more than just a purchase—it is an investment toward greater freedom and ease beyond your doorstep! So why wait? Buy one today! In stock and ready for quick delivery and installation today.
What kind of Portable Ramps Do I Need?
There are various options to consider when looking for the right portable ramp for your needs. Firstly, you need a ramp that can handle the weight of your mobility device, including any accessories or modifications. Secondly, you need to consider the height of the steps and landing space at each area where you plan to use the ramp. Finally, you need to determine the type of material that will work best for your specific needs. We can help.
At Call Before You Fall, we offer portable ramps in different sizes and materials so everyone can access safe and convenient travel with their equipment. From wheelchairs, mobility scooters, walking assistance devices, and more. We also have solutions available that are specifically catered to seniors or those with disabilities through our wide range of other products.
Our team is always happy and ready to help during the buying process or afterward. We offer personalized advice based on each customer's needs. And we install and service everything we sell. We never outsource any of our services.
Benefits of Getting Portable Ramps for Sale from Call Before You Fall
Having a portable ramp from Call Before You Fall can make a world of difference for individuals with disabilities or those who struggle to climb stairs or cross a threshold. Here are the benefits of getting portable ramps for sale from our high-quality brand:
More independence and self confidence:

Our range of portable ramps allows people with mobility issues to access different levels more conveniently, expanding freedom in the outdoors and inside their homes.

Safer option:

With our industry-leading standards followed during manufacturing processes, you get peace of mind knowing that your health and safety are taken into consideration while using any ramp.

Reduced stress on joints:

Walking up several steps at once puts more pressure on knees and leg muscles. By eliminating the stair or rise, it eases those muscle pains/stresses/tightness while traveling along gradual slopes present in our portable ramp designs.

Hassle-free setup:

All models come pre-assembled and are set up and installed quickly by our technicians.
Well-planned logistics:

We value every customer's urgency for need-based requirements. 
Call Before You Fall is a trusted brand known for delivering top-quality portable ramps that provide comfort and convenience to those in need. Order a ramp today by visiting our website, scheduling an installation, and experiencing the change yourself! Don't wait any longer—grab yours now!
Shop Commercial Ramps | Shop Threshold | Shop Residential Ramps | Shop Ramps
Interested in portable ramps? Request a free home assessment today!