OUR EXTREMELY HAPPY CUSTOMERS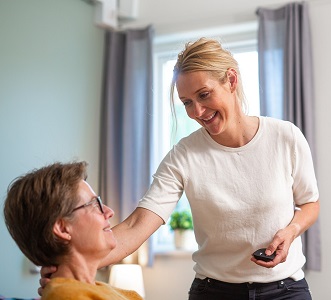 Based on a friend's recommendation I contacted the company for a larger project in my house.
I asked a lot of questions and very patiently Alex explained the options, gave me a very reasonable price and overall he was very transparent about what can be done. He came up with some great ideas and made very good suggestions based on my needs.
They were able to schedule the job the next day and I'm very pleased with the outcome.
Thank you!!
"Their Branch Manager, Don, came out to give us an assessment and quote. We had both that evening. We made an appointment to visit their Agoura Hills showroom the next day (Friday). After visiting with Don and Alex, we finalized the quote and we left them a deposit. The following Tuesday their team was at our house to install the handrails. Don was with them to explain where everything went. He also measured for the single rail stairlift. The work went very well and the team was ready to go by 2 pm. Work was perfect. Cleanup was as if they were never here. My wife and I are very pleased with everything about this job. The stairlift will be ready in about 5 weeks. We can hardly wait! Great company, great product, and great people!"
Our customers love our service and attention to safety and detail.
Why not request a quote now and let us work with you on your next move.
"We called Alex at Call Before You Fall because my mother-in-law was had developed some mobility issues. Alex came to the house for a consultation, and he listened carefully to our explanation of our situation. Then he outlined many recommendations including ramps, grab bars, hand rails, raised toilet seats, and non stick floor coatings. They really seem to offer a solution for just about every possible challenge. We were able to easily pick and choose the items we wanted, and Alex was not pushy at all about any of it. We also paid a visit to their showroom and were able to clearly see in person all the items we were considering. After placing our order, his installation crew came out in a timely manner and did most of the work in one day. We are grateful that this store even exists, because the service they provide is invaluable, and we very much appreciated how Alex was so attentive and easy to work with. We highly recommend Call Before You Fall."
[contact-form-7 id="694″ title="Request Callback"]