Taking a refreshing bath after a long day is not just about cleansing; it's also an opportunity to relax and unwind. However, getting in and out of the bathtub can be challenging and sometimes unsafe for individuals facing physical restrictions. Trips and falls in the bathroom are major causes of accidents for anyone, especially seniors with mobility issues.
You should be looking to make your bathroom a safer and more accessible space for your loved ones who face mobility challenges. One of the most reliable options you may come across is a bath lift. Incorporating this incredible assistive device can help prevent accidents while promoting independence during personal care routines.
While on the quest for the right bath lift for your tub setting, you will surely wonder, how much do bath lifts cost? For your convenience, today we'll discuss factors influencing prices along with various options suitable for different requirements. Let's find the best value for your money!
Factors Affecting Bath Lift Costs:
Searching and eventually finding a suitable bath lift option becomes easy when you consider a few factors. The types available in the market or the materials used—these important issues play a big role in determining the right fit!
There are a number of materials used to make bath lifts, including composites, metals, and plastics. Plastic bath lifts are not as durable as metal or composite bath lifts but are more affordable. Composite bath lifts prove to be more durable and sturdy.
The cost of a bath lift can vary depending on the features included. Some models offer built-in chairs, adjustable height settings, and handles or grips for added safety and convenience. More advanced options like motorized lifts or reclining capabilities might come with higher price tags.
You will find various brands that manufacture bath lifts at different price points. Renowned manufacturers often have higher prices due to their reputation for quality products. Lesser-known companies will offer more affordable choices without compromising on functionality.
Type of Bath Lifts Available
There are permanent bath lifts that can be installed directly into your bathroom fixtures. Portable ones can be easily moved between different locations. There are inflatable models, too, which are space-saving solutions when not in use. But they still require inflation before each bathing session. Each type has its own set of advantages and disadvantages, which can influence the overall pricing structure.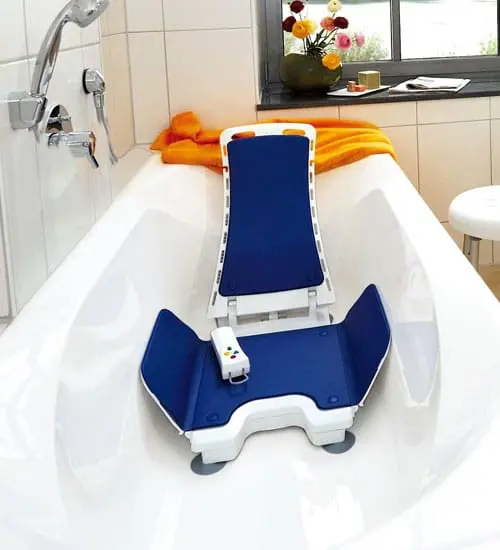 What Are the Different Types of Bath Lifts?
Bath lifts come in different types, each designed to meet specific needs and preferences. Here are the main types of bath lifts available:
Battery-Powered Bath Lifts
These are the most common types on the market today. They provide convenience and are easy to use with their battery-operated mechanism. With a simple touch of a button, users can smoothly lower themselves into or raise themselves out of the bath tub without any physical strain. The rechargeable batteries are charged away from the water for safety purposes.
Although manual bath lifts are less common than battery-powered ones, they offer a good alternative for people who prefer simplicity. Manual bath lifts can be operated by turning a crank that lowers or raises them. The full movement may take about 50 turns. You still do not need a lot of strength to use them, and they are easy to operate.
In earlier times, these were more commonly found. However, there aren't many available in today's market anymore due to advancements in technology. Water-powered bath lifts use water pressure for functionality. A hose connects these models to either a tub spout diverter or shower head diverter to fill a valve. It results in precise lifting and lowering motions according to the user's requirements.
Price Range for Bath Lifts
We have already discussed the factors that impact the costs of bath lifts. Now, here's a breakdown of some general price ranges you might encounter when exploring different options in the USA:
Basic Models: These simple and functional bath lifts are often made of plastic and offer minimal features. They usually fall within the price range of $150 to $500. Basic models are suitable for individuals with basic mobility requirements who don't need advanced features or robust construction.
Mid-Priced Models: If you're looking for more comfort and support in your bathing experience, mid-priced bath lifts may be suitable. Ranging from around $500 to about $1,000, they offer more sophisticated features like adjustable height settings, built-in chairs, and handles or grips for added support.
Premium models: You might be seeking top-of-the-line technology or may require extensive assistance during transfers into their tubs. Then, a premium bath lift model is what you want! They usually include motorized lifting mechanisms or reclining capabilities. So, they generally carry price tags starting at approximately $1k+.
Remember that these prices are just general estimations without mentioning specific numbers. We recommend you research different options available in your area or consult with a reputable supplier who can provide accurate pricing information.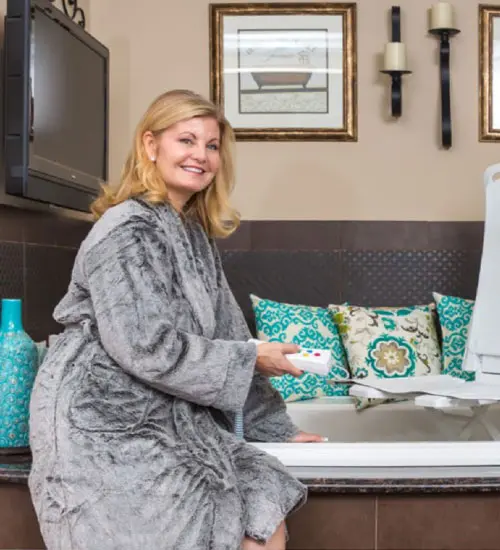 Tips for Finding the Best Value Bath Lift
Looking for the best value bath lift? Take a look at these helpful tips that can guide you toward making an informed decision and ensuring you get the most out of your investment.
Determine What You Need: Learn about your specific requirements before starting your search. Consider factors such as weight capacity, backrest design, battery life, and any additional features that may enhance safety and comfort. Do the best research and decide your demands.
Research and Compare Prices: It is important to do your research and compare prices between different brands and models available in the market. Many websites offer price comparisons, which can allow you to find competitive deals that are within your budget without sacrificing quality or features.
Consider Used Bath Lifts: Buying a second-hand bath lift is often more cost-effective compared to purchasing new equipment. Just make sure that you verify its condition beforehand. You can use reputable sellers or platforms like eBay or Craigslist.
Check for Bargains and Discounts: Look out for sales events or promotional offers from manufacturers or suppliers of bath lifts. Keep an eye out for discounts at online marketplaces. These opportunities may lower overall costs while still providing reliable products.
Think About Renting: Budget constraints can become a concern. So, why not consider renting instead of buying outright? Renting allows flexibility and, at the same time, access to high-quality equipment without significant initial expenses.
Summary of How Much Do Bath Lifts Cost
For those with mobility problems who wish to maintain their freedom while bathing, bath lifts are a realistic alternative. Bath lift prices might vary based on factors such as the type of lift and other features. It is important to consider safety, durability, and ease of use when choosing a bath lift.
When it comes to purchasing a bath lift, we recommend Call Before You Fall's range of mobility safety products. Our expertise in providing top-quality solutions ensures optimum comfort and security while bathing. Ensuring customer satisfaction at affordable prices makes us an excellent choice for anyone seeking reliable bath lift options.
If you or your loved ones need more information about the various types available, reach out to us. Contact us today for assistance in finding the right one that fits your needs within your budget range!