With a Walk in Tub you can gain back your freedom and independence.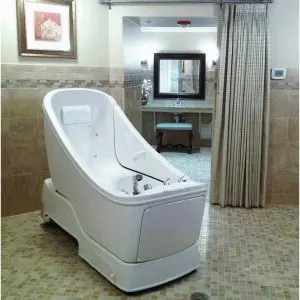 A walk in tub is a bathtub that is made specifically for individuals who have accessibility and/or mobility challenges. As families grow and loved ones get older we are starting to think more deliberately about our life plans, especially where senior family members are concerned. As individual needs change, it becomes important to plan for the future and to ensure comfort, independence and dignity in day to day living.
If your household is a multigenerational one, careful consideration of your bathroom facilities can keep an older or mobility-impaired member of the family able to use the bathroom readily for personal care.
As we age, we appreciate and want to hold onto the ability to wash ourselves and for many seniors a bath can quickly become a challenge too heavy to bare. Navigating a bathtub can be difficult if age or health has weakened the muscles needed to enter or exit the bath safely. For some people fall, slips and trips are an unfortunate consequence. According to the CDC, fall death rates increased 30% from 2007 to 2016.
The time and expense of assisting your loved one in and out of the bath can be readily offset by some of the excellent adaptations for senior living on the market today. One of the key bathroom solutions for Los Angeles seniors is the walk in bathtub. Here we explore more about this handy fitting that is restoring independence and dignity to older people and enhancing family living for all ages.
A walk in bathtub is a sound investment for the future years in your home.
Walk in tubs are baths that are specially designed to offer accessibility to people who are disabled or have limited mobility. The key features of a walk in tub are its watertight door and comfortable seating, which enable a user to walk into the bath and sit down while the bath fills. The user can bathe and drain the bath before opening the door, and exit from a seated position.
A walk in tub is also a great consideration for a home remodel if there are family members with additional needs. Not only is it easier to use independently, it makes the job of caregivers easier (which also lessens chances of injury to a caregiver).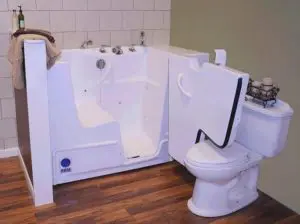 Learn the surprising features and benefits of a walk in tub.
A walk in tub provides the comfort and relaxation of bathing, and is convenient / ergonomically designed so it can readily integrate into your daily routine.
Here are some of the key benefits of a walk in bathtub:
Safer than a traditional bathtub:
A walk in tub's accessibility means you have far more control over your entry and exiting of the tub than with a regular bath. In addition, non-slip flooring, grab bars and secure seating mean you can feel confident and secure as you lather up.  The independence these products bring is an indescribable feeling to someone who has been relying on a caregiver or family member.
Convenience:
The simplicity of the walk in tub means you can use it readily, as often and needed independently if you are able. For people who like to take a bath or shower on a daily basis, this is the best option for ease of use and convenience.
Comfort:
Robust ergonomic seating keeps you in a stable upright position with your feet comfortably on the floor. Many models offer heated seating, allowing you to remain warm and cozy as you sit and wait for the bath to fill.
Improved circulation and symptom relief:
Many models come with additional spa and hydrotherapy setting which can be used to relieve aches and pains. Improved blood flow / circulation, leads to increased overall recovery of the body. This is also very important as we age.
Excellent water efficiency:
Due to their design, walk in tubs typically provide greater depth for bathing than a conventional bathtub with an equivalent volume of water.
With a walk in tub Los Angeles seniors are free to concentrate on living well.
If assisted living is a necessity for your household, even the smallest adaptations can make a great impact on the quality of life for those who are mobility impaired, as well as their caregivers. The dignity and liberty that can be handed back with a solution as simple as a walk in bathtub is beyond financial calculation because it removes key hurdles and challenges for completing the tasks of daily living. Los Angeles residents who are aging or have older or disabled relatives have a number of programs and funding streams available including IHSS (In Home Supportive Services) that assist such residents in living independently in their own homes. These agencies may be able to assist households with procuring a walk in bathtub or other adaptations that make bathing easier.
To speak with one of our experts, please feel free to call, e-mail us or come by the office at anytime! Just click "contact us" or fill out a form on our page. You can also call us locally at 800-829-1491.